Sniff, sniff.... snort! Sorry, we are all sick here and frankly its gross. Ariel went down first and boy did she ever. She is usually one to stay well like me, but this time it got a hold of her and she is miserable. I should have thought something was off on Friday when she fell asleep on the couch. My daughter doesn't nap, so that should have been a red flag. By Saturday night, she was snotty and congested. No fever, so no swine flu, yay for that. This is probably the average 'school' caught cold. I know who gave it to her too, her little friend who came to school sick because it was picture day... um... yeah.
I realized this morning that I have been very lazy this week about blogging, so here is a week's worth of updates on everything. Monday and Wednesday were school days for the princess. They talked all about Thanksgiving and turkeys. On the Wednesday they made a community fruit salad, very cute! Tuesday was ballet and Ariel's teacher was telling me how she asked the class if they had their listening ears on? My daughter, the intellectual, replied no because she had never heard the expression. Her teacher then said she better get them on, so she proceeded to twist both ears. What a doll... although I never heard if they worked, haha.
Sweet dreams for Xander. He isn't really smiling much yet, so I love the sleeping smiles. Awww.
Xander seems to be growing like a weed. I honestly think he looks huge and yet when I go out people stop me to see him and say how cute and small he is. He was kinda cranky this week, so maybe it was his cold building up. How sad is this? Poor baby boy, mean old mommy taking pictures when your sad.... I must say his sad is cute.
Ariel the protector! Gosh she loves him so much, I hope she has a good relationship with him in the years to come.
Thursday was my cardiologist appointment. Overall, it was good, still some progress to make, but overall we are improving! Yay. My blood pressure was high under stress while there, aka screaming baby in the waiting room. Its not 'that' high, but doctor wants to see it lower in a stress situation. So I am on a smaller water pill now, and continued exercise and low sodium diet. See that, LOW sodium, no longer NO sodium, needless to say this was the best news to me, haha. The other big news is my hole may be shrinking in my heart!!! My heart rhythms were good and she said the sound of it showed signs of it possibly not needing to be fixed. The echo next month will give us a better idea, and I ended up having another chest x-ray that morning as well. I don't go back till May and she told me to continue what I am doing and not to think about her, ok - will do!
Following that, Stella and I went to lunch and fabric shopping for Ariel's halloween costume. If I didn't say already, she is going as Bo Peep and Xander is her sheep! I found the cutest fabric and can't wait to get sewing. Whee. I was looking online for ideas to make her staff, and found a great suggestion for using a large candy cane decoration. Kara called me last week to say she found one at her dollar store, yay, so she is all set now that I pealed off the red tape. Here is sneak peek at the fabric, but now you have to wait till the end of the month.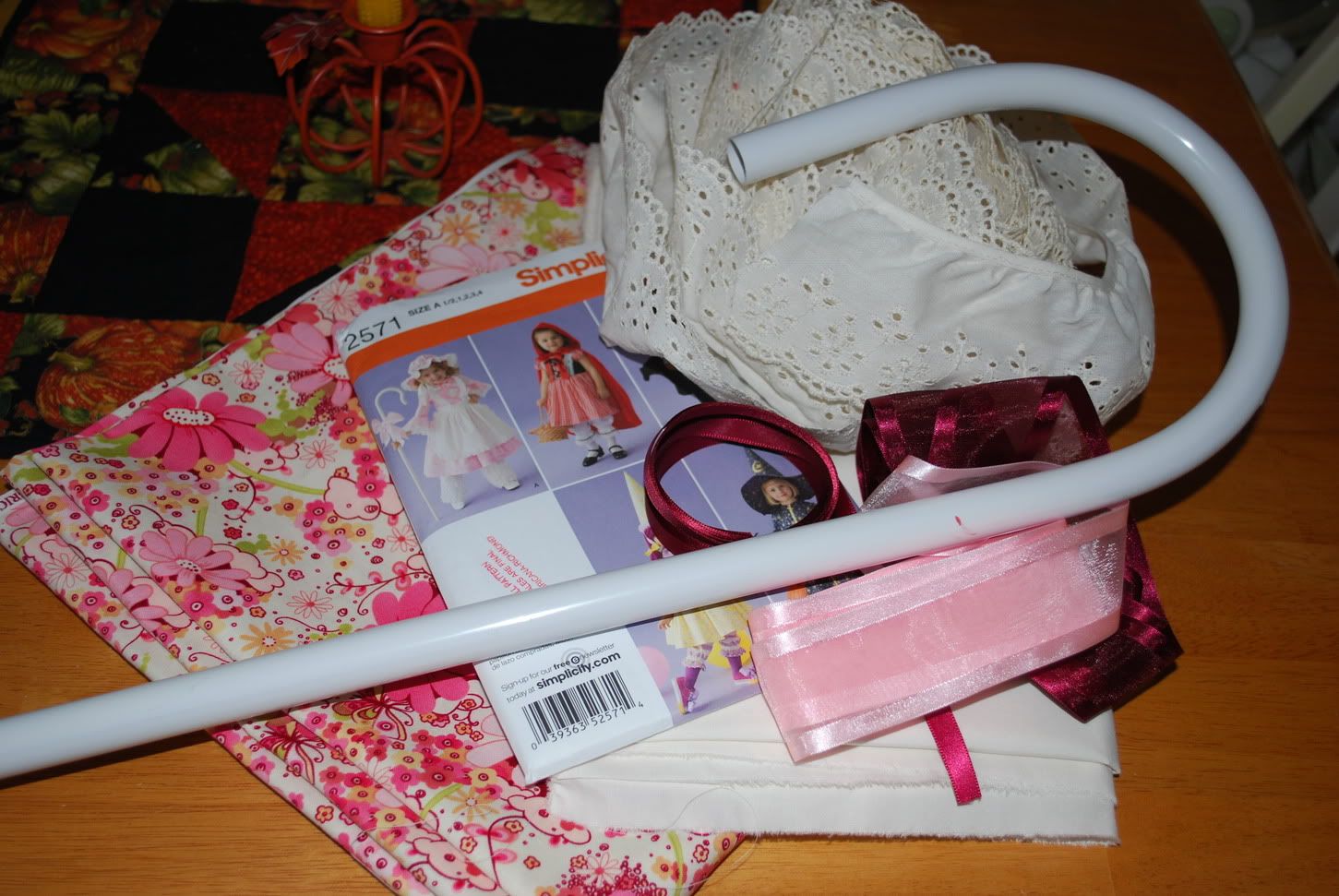 This week we had a delivery from the UPS man. Now that Ken is writing a new book, we have lots of shipments from them with contracts, payments etc. I mentioned once before about how Ariel is obsessed with the delivery man and likes to pretend to be him... she finally let me tape it on the flip video. Enjoy... don't you love her 'man voice'?
Saturday came and Ken was now on his long weekend! It was a beautiful day and we packed up the kids and went to the opening day at the pumpkin patch, whee.
This was Ken's first trip because he use to work on Saturdays, so it was so much fun... Xander slept through most of it, I am sure next year will be a blast for him. We arrived shortly after it opened and it was already packed! Ariel was eager to see the dancing pumpkin and corn again... yes, she is SOOOOOOOOOOOO our daughter. Haha. She was even more thrilled to see a strawberry on stage this year as well.
We loaded on to the wagon and rode out to the patch. It was perfect, no mud and lots of pumpkins to chose from. I had Ariel in her boots but she probably didn't need them, crazy! Usually its raining and muddy, so it was so nice to have a dry and somewhat warm day.
Before pumpkin picking, the official photo for 2009, haha.
Ariel found her pumpkin pretty fast....
...and then helped Xander find his, since he was busy sleeping.
Mommy and her little pumpkins!
After finding Mommy and Daddy's pumpkins, we got back on the wagon. Time for an apple and to watch more of those crazy dancing produce! Ken's childhood tradition at the patch was to have donuts, and funny enough they had some there! So I got a bag of the mini donuts for us all to share, yum.
One of Xander's brief moments of being awake... usually when those dancing produce were around, haha, must definitely be a family thing. Hee.
On the way out they had a pony ride set up, and Ariel seemed all excited until I paid the man and we were standing in front of the pony. Before she could protest, I had her on the saddle and she was grinning! She smiles and tells me it isn't scary. Sometimes we just have to try new things right? Ariel nodded and enjoyed the rest of her ride.
We left to go home and the kids were all tired and hungry... so much crying filled the car, oh well. After lunch and a nice and quiet afternoon, we got ready to go for our turkey dinner at Dad and Rita's. Mike and Jo were coming as well as Tim and Liz (one of Rita's daughters and son in law) and all the girls.
Xander and his first official holiday, just like Ariel, Thanksgiving! Sadly, when we did his turkey picture, he was fast to sleep. Oh well.
Ariel was excited to get to play with all the girls, although she was showing signs of the cold taking a hold. Her nose was running and she wasn't herself. She did still eat her dinner and a piece of pie... in fact she stopped eating dinner half way and announced she needed to save room for pie. Haha.
When we got home Ariel was really tired and crying. We got her in bed but the night was filled with us getting up several times as she would start crying in her sleep. Eventually I brought her into our room and made a bed on the floor for her. The next morning she was puffy and red. Her nose was running like crazy and she had a little cough. We had her quarantined to her bedroom to try and protect Xander from it. Ken brought in his editing tv so she could watch cartoons and rest. Thankfully it worked well and we managed to keep her in bed all day! She ate toast, soup and some fruit, so that was good.
She slept through the night, and that was good for her little body, however it was my turn, I couldn't sleep and was up blowing my nose for several hours, ugh. I also awoke to little Xander coughing and having a stuffy nose. So that sucks! We are all staying inside to rest again today, hoping tomorrow we are on the mend.
Ok, time for me to go back to bed... sniff.