This long weekend has been one of cleaning for us. Talk about fun eh? As I mentioned previously in earlier posts, we have been on a huge cleaning kick, getting rid of junk and clutter around our place. As great as it feels, its extremely tiring, and I will be happy when it is finally all finished.
We did another stab at the storage room and managed to empty the huge set of drawers that we had filled with old animation and craft stuff. One of the interesting things I found was my old box of letters from when I worked at Tulahead.
Dianne
, I may have to scan some to email you. The ones from you are HILARIOUS! After a few hours, I am pleased to say the drawer is gone and our storage room is that much emptier! Woot! The plan is to eventually move the animation desk in and move the computer downstairs and make the office into Ariel's big girl room. I don't think that transition will actually happen till the new year, but I rather it be ready when the time comes and we can focus on the move rather than de-cluttering.
As some of you know, last night Ariel came down with a fever. Ken had gone out to see Batman on the imax with my brother Mike, so Ariel and I made it movie night too. We made some popcorn and watched the new little mermaid movie we had picked up at Costco earlier that morning. (By the way, she has finally noticed that she and the mermaid have the same name, her response to this, '
thats funny
')
She seemed fine during the movie, however when it ended she came and curled up on my lap and I felt her head burning against my arm. Her whole body was quite warm and so I whipped out the thermometer and checked her. Sure enough it was 38.6°C and she was looking pale. We made our way down to the store to by some tylenol (since she thought she dump her all over our bed this morning. I still can't figure out how she got it out of the high drawer. Apparently, she thought it was a bubble wand, and her Daddy awoke that morning with her blowing it all over the place. Ah the joys of a big girl bed... and the tylenol is now in the highest cabinet where I can't even reach without a stool.)
She slept fine and yet when she woke up she was still quite warm. We called the nurse hotline just to see if we should do anything since we really haven't dealt with fevers before with her. Basically we are to watch her and keep the fluids up. They think its just her fighting off something, and since she has had all her shots we shouldn't worry. Ariel actually is seeing her doctor later this week for her 2 year appointment, so I am sure if its still lingering we will talk to her about it.
Ken headed to church this morning because I was to be in the nursery, so he was going to cover while I stayed home with princess. She ate 2 pancakes and happily played dress up. Check out that new look, whoa.
Then we played some indoor golf. Uncle Dan had given that set to her when she was 8 months old, we can finally use it. Yay!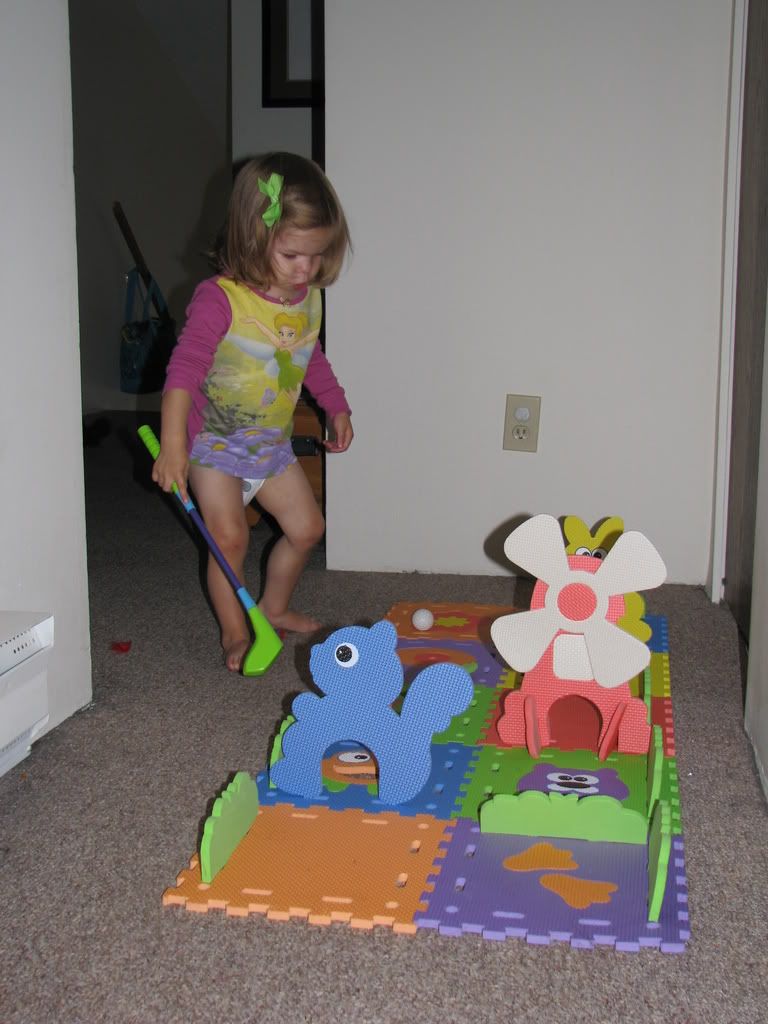 She was pleased when Daddy came home and they played and snuggled while watching her favorite numbers dvd.
At some point she turned to him and said she wanted her 'binkie' which means she is sleepy. So we tucked her into our bed and she slept for almost 3 hours.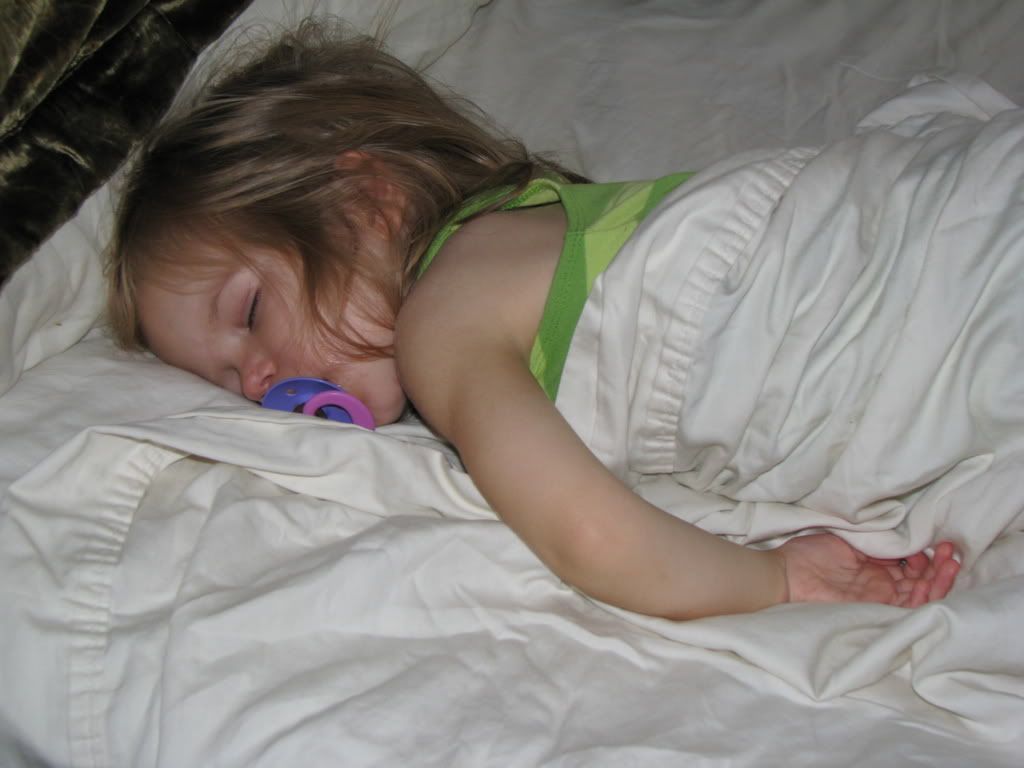 After working for several hours, we decided picking up a pizza would be a good move. I will cook something nice tomorrow, tonight I couldn't even think of doing another thing. Ariel was up and was eager for pizza as well, so that was the plan. Ken picked it up and we watched Snow White together. We are going to try and watch a Disney movie every night until we leave... 2 weeks and counting as of TODAY!!! Eek!
I also booked some character dining meals for our Disney trip, yep, I like to plan. Since the park opens at 10am every morning when we are there (fall hours) I thought seeing the characters in the mornings at meals was a good way to fill in the time. We also get a free character breakfast with our package from the travel agent, woot, and Ariel is free at everyone one of them since she is only 2. Hahaha, wait till they see how much she eats! I am so excited that I have all the details of our 'mommy meet up' finalized too. I can't wait to meet
Amy
and
Allie
in person. Its so cool how you can meet people online and get the chance to finally see them face to face. I'd love the chance to meet others from our chat board, maybe one day.
I also managed to book Ariel's fall activities. She is taking the storybook ballet class, I am so excited about that one. We both get to take part since its a parent participation one, whee. The swim class I was hoping to get her into is full, so we went on a wait list, but I did sign up for one that is twice a week starting in October, so that is still good if we don't get the other one.
Well thats pretty much it. Nothing exciting planned for tomorrow, just laying low in case Ariel still has a fever. I am looking forward to starting a new book tonight. My online mommy friends are all saying I need to read the Twilight series, so I picked up book one at Costco. I am eager to read, and I haven't had a good read since Harry Potter. Gack! I shall keep you posted. Good night!