... its pouring rain outside, and most likely will be raining for the festivities coming up this week, bah! Still hoping it might lighten up, we shall see. Since it was such a beautiful day yesterday, I decided to dress the kids up to take some pictures. I wanted to practice curling Ariel's hair since I had never done it before. Doesn't she look cute with the rollers?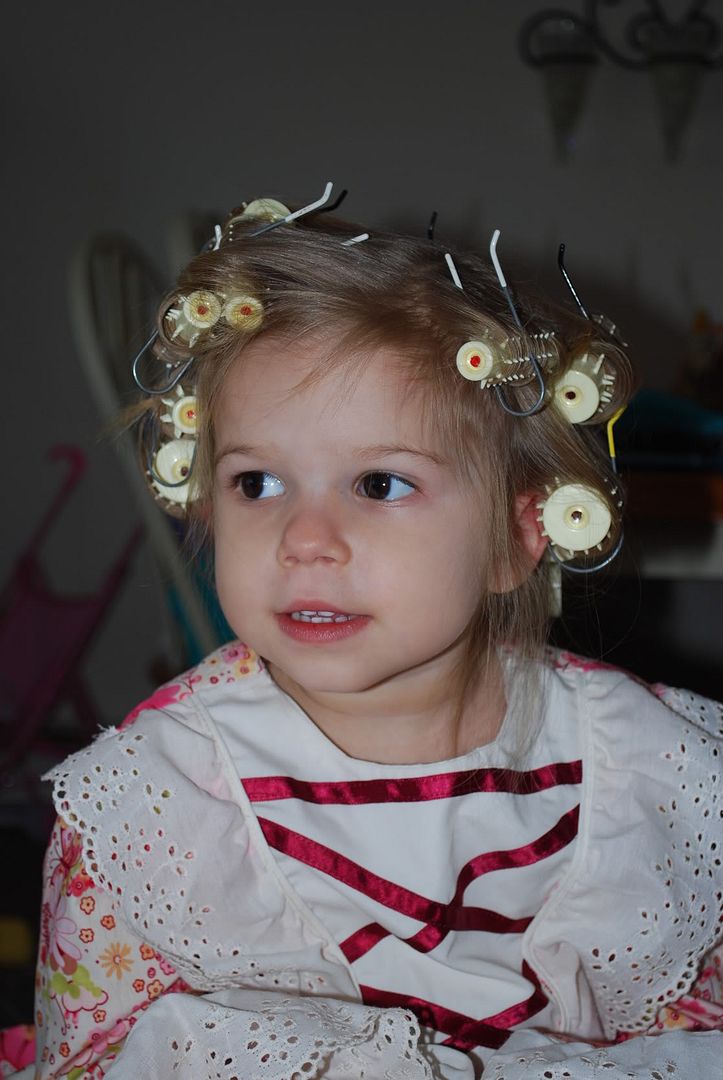 She didn't seem to mind at all, but then I let her watch tv when I did it. Haha. I finished and she was still absorbed in Yo Yo Gabba, hehe.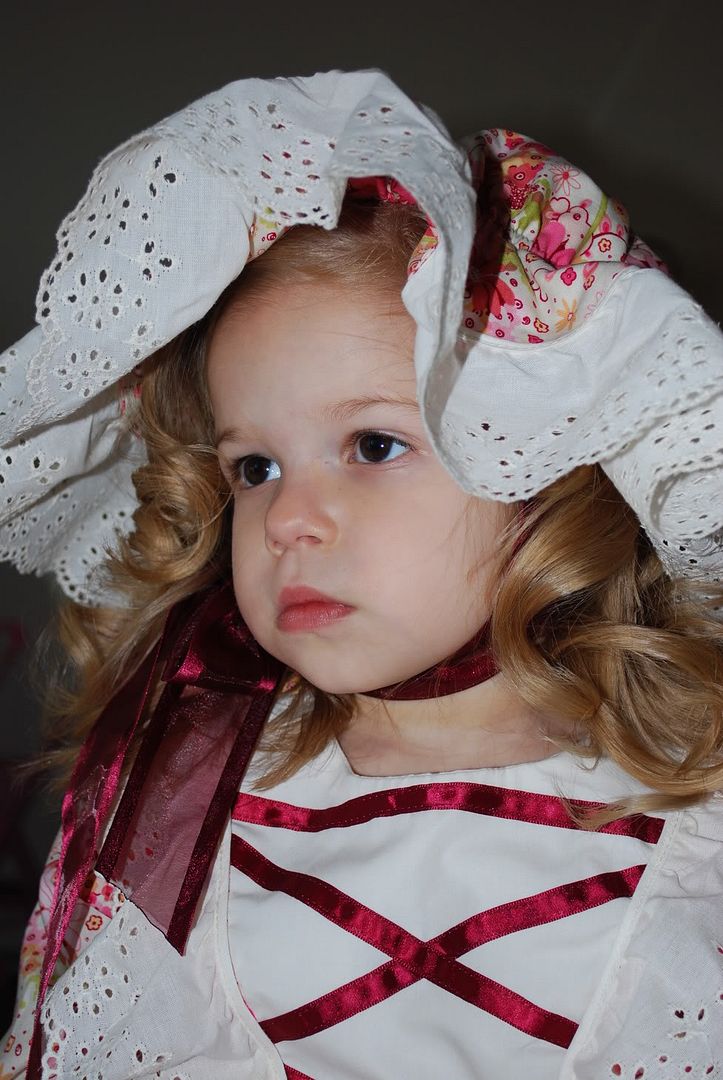 So I took the kids out to the little grassy area with the leaves and snapped some pictures. Here is Ariel my Little Bo Peep!
Not to be outdone by little Xander the sheep.
Oh my gosh, I am just gushing over this shot. I love it to pieces, my cuties!
Its so funny that I am having fun dressing up the kids since I was not a fan of Halloween as a kid at all. Ken is more into it than I am, frankly I am more into the whole idea of harvest rather than scary stuff. I had a talk with a friend a few years ago about my feelings on the subject and how it related to my faith. She too being a Christian gave me some words that have stuck with me, 'make it what you want it to be.' So I make it about fun dress up and pretend, my daughter is a huge fan of that, and I don't want to ruin that part of it for her. We don't hang up scary decorations, we only have 'harvest style' things around our home (pumpkins, turkeys, leaves etc). We trick or treat with friends from church and gather for a fun time after wards with food and fellowship. The kids all play and its fun to just hang out with others. I take the kids to the community event that is aimed at younger kids and isn't scary. I want them to enjoy the wonderful town we live in and how special it is that we have events like this in a safe setting, others aren't so lucky. So that is my thoughts on it, I know others have different views and that is cool, but I thought I'd share my own since I don't think I have before.
Last night we also carved our family pumpkins. Ken sketched some ideas and came up with with a cute concept.
Ariel helped me scoop some pumpkin guts.
Xander was pretty excited by the whole event... um, yeah. Haha.
He did eventually wake up and gave us some cute smiles. Gosh he is cute!
Ariel trying to recreate the face on her pumpkin, haha.
My little pumpkins!
When the pumpkins were finished, we lit them to see how they looked... perfect. The little Xander pumpkin has the best face, haha.
Today was a rough start. I was up at 6am to feed Xander and went back to sleep... only to have Ariel wake me up... at 10 to 9am! It was a school day!!!!! Ack!!!!!!! I threw on some clothes, handed her a quick breakfast to eat in the car, made up her snack and got us out the door and at the school within 10 minutes! I was a little out of breath but we did it.
After that Xander and I went off to pick up the special putty Ken needed for his class tomorrow night. Since my little man was sleeping soundly, I took my time and once getting the putty spent a long time in this super cute toy store up in Tsawwassen. I wanted to get a jack in the box for Xander and they had a darling one that was a sock monkey.
During the afternoon while Ariel was playing and Xander slept, I finished up the pillows for Ariel's room. The list of things I made up to do is pretty much done! I have some new ideas of things to do, so I might make a new list. I am just happy these things are getting done. Ariel was thrilled!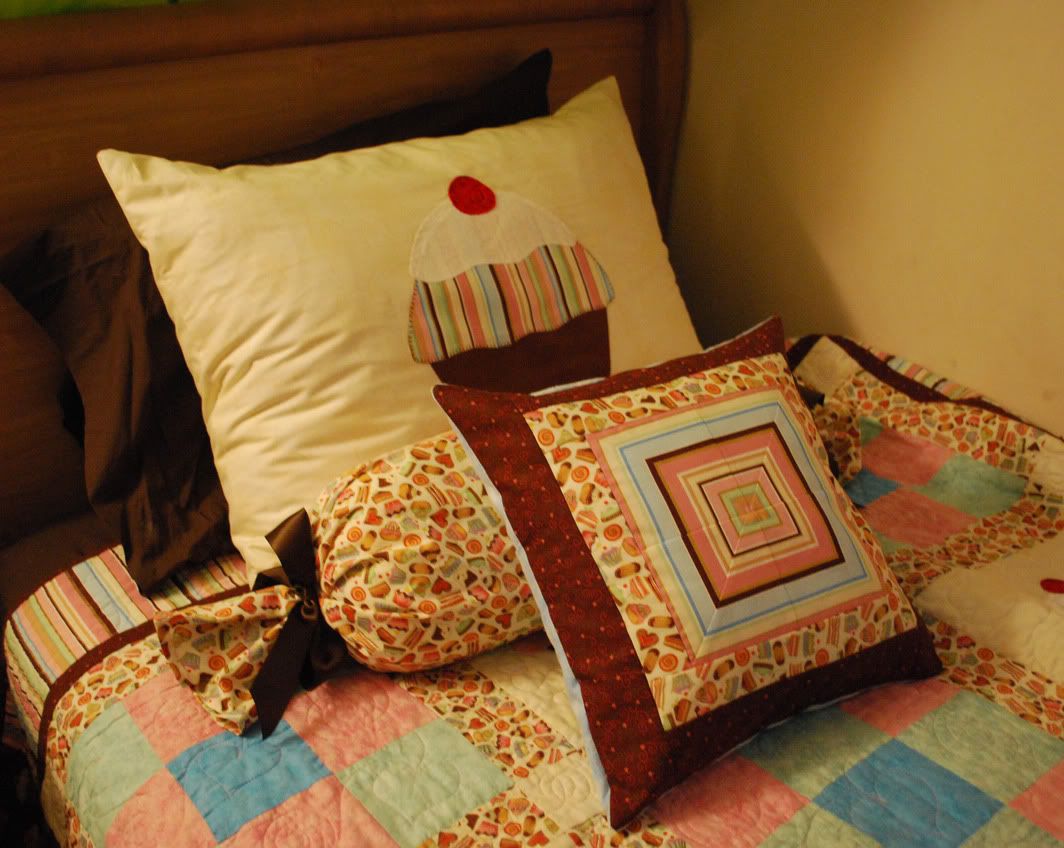 Going back to the beginning of the week, Xander turned 2 months on Monday!!! Wow, I can't believe it. My little guy is sure starting to become his own little person. He is smiling more and more, and at other people now, not just us. I have to book his visit to the doctor, but I haven't decided if I will get her to do his shots or go through the health unit. I am also waiting till his sniffles finish up. My little guy is also very solid! Such a change compared to the light weight Ariel. He is good for my upper body workout, haha. Love this picture of him, its like he is saying 'eh!' My good Canadian boy. Hee.
That morning was Ariel's photo retakes for school and THANK HEAVENS it was a huge improvement! The photographer was so much better, he was also good with kids and was very warm to her. She sat on the block and gave the best smile. I can't wait to share it since its like night and day compared to the other picture. I am glad Ken pushed me to get retakes, I was afraid of a repeat of last time, can you blame me? Ariel was so proud of herself, she couldn't wait to tell Daddy how brave she was and how she smiled big for him. That's my girl!
Monday was also Ariel's first field trip with her class. We went to a local farm and although it was muddy and cold, thankfully the rain held off. Dad and Rita were able to watch Xander at the last minutes so I didn't have to have him outside the whole time with us.
On Tuesday, Ariel went to ballet class and had a blast as usual. We are getting closer to her performance, and I am very excited to see it. After class, we went to Dad's and got to go out for lunch with him and Rita. They were getting ready to leave on their trip to Mexico and it was nice for the kids to see them before they left since it be awhile till they got home. We went to White Spot and Ariel polished off a pirate pak in no time. She must be getting ready for another growth spurt, the girl is eating big time again. After we got home from lunch, she wanted a sandwich, apple and cheese. Dang!
Well, my hubby just got home, so gonna go visit with him. Have a good night and a big congrats to my friend and blog buddy
Kristin
and her family. They welcomed a new baby boy named Jeriah Ross. Yay!