Ahhh, we had such a wonderful long weekend at home. Nothing major planned as Ken had lots of writing, animating and course building to do, but at least we were all together. I must say I am looking forward to Ken having Saturdays off this summer from teaching. Sure the extra money is always nice, but with the animation he is doing for Galen, it more than makes up for it. Yay. We also got the posters made up for the animation festival coming up. So everything is rolling along nicely. Woot!
Ariel spent most of the weekend being a baby. She wanted to be wrapped in blankets and rocked, very cute.
We also started planning a day trip down to Seattle to see a Jim Henson exhibit at a museum, hit the outlets for Xander shopping and have some yummy food along the way. I REALLY want to go back to
XXX Root Beer
, must be pregnancy cravings. Haha.
Speaking of Xander shopping, I ordered some duds for him, thanks to Ken's Dad who sent some 'shopping spree' money for him to catch up to Ariel,haha. Also, thanks to Julie for the Gymbo code and to America for their Memorial Day sale, woot! I will post pics when they arrive. I am eager for fall clothes, and they should be coming out soon. I am still trying to find a coming home outfit for him as well. I keep changing my mind. I am eager to get Xander's bedding in the mail next week. Ken's mom sent it off with some shopping she did, so I am excited to see what she found him. I also made more progress on his stocking, soooooooo cute!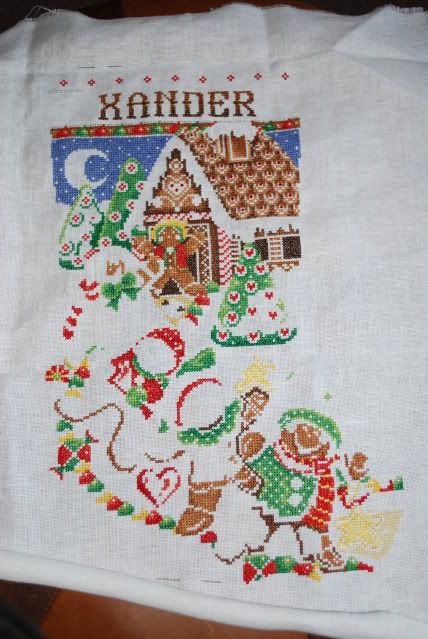 Yesterday I got to talk to my friend Dianne. It was so nice to hear how things were going with her new little girl at home. I then put a giant bag of Ariel's old clothes together for her. Hope Hana likes them. Ken is going up to Alberta next week, so he can take them up for me.
Ariel also pulled out her bubbles to play with in the morning. She kept trying to lick the bubbles... apparently soapy water tastes good?! Yuck!
Today is beautiful and both Ariel and I are in sundresses. I am sure its not 'THAT' hot out, but it works for us. I feel warmer just knowing my friends in Alberta have snow today. Gack!
Ariel wanted to sweep my deck... of course she said she needed it to be dirty so she took some dirt from my planters so she had something to clean. I guess that is one way to do it.
We are still trying to sort out a day for Ariel's furniture to come. Sigh. It was all planned for this weekend, had the youth booked to move it and then we found out that the family had gone out of town at the last minute, totally forgetting the plans. Sooooooooooo, we are going to try again at the end of the month, really hoping this is it. Haha. Ariel keeps asking when her bed is coming, and I really don't know what to tell her anymore except soon.
Tomorrow I have an ultrasound. They didn't get super clear pictures of some of the organs last time, so we are gonna try again. Lets see if he co-operates this time. Stella is going to join us to keep Ariel under control, haha. I also plan to drop off Ariel's preschool application, as I have it finished finally. Lots of paperwork for just 2 mornings a week! Ariel's excitement about going to school hasn't worn off either. She is looking forward to our visit to the classroom soon to watch a class in action.
Well, I am going to go do some sewing and get my feet up. Have a good week!