Yes, its been almost a whole week since I checked in. Sorry, its been a hard week energy wise for me. The iron pills are helping, but they also make me sick, so its a toss up. Blah. Ariel and I spent most of the week at home or walking around town in the sun shine. Ahhh, so lovely. Thursday morning we had breakfast with Dad and Rita since Evie was visiting. Ariel kept calling her Katie most of the morning since in some ways they do look the same... just a different granddaughter. Ariel eventually caught on that it was a different girl, haha.
We went for a walk and I got to play with my camera, whee! Just a few goodies of the flowers I captured. I want to build up a library of images so I can use them for greeting cards for birthdays and such. Thrifty tip of the week, haha.
I love funky looking flowers, so cool!
Ariel grew tired of my constant stopping and picture taking, come on Mommy. She is pretending to be Linus with her blankie. Hee.
Friday rolled around and so did the big concert, eek! That morning I realized I really wanted a dress to wear and that the maternity store may have summer stock in, so I drove out to Ironwood with Ariel in tow. I found 2 cute summer dresses, and I think that should last me for summer with maternity clothes now. Yay! I also stopped into London Drugs and got the filters for my camera. So a successful morning in my opinion.
At 4ish I took Ariel down to meet Kara and Lala at the Quilt store. She was so excited and was pretty much barley saying good bye to me. I am learning to just run, haha, don't look back. So I walked back to our place and got picked up by Dad and Rita. We met Ken downtown at Dix restaurant, a place that was down the street from the school's old location. We use to eat there every so often, and I really missed it. We stuffed ourselves and then walked it off by making our way to the stadium. That is when the story gets 'magical'.
We got in and found out seats, section 311. They were the more affordable seats and frankly the only ones I could get at the time. They were fine totally in our opinion, at GM Place you really can't go wrong. With that we spilt up to walk around while we waited for the show to start. We got Ariel a t-shirt and us a mug (that we are totally gonna fight over, haha). We walked back to our gate after my 2nd bathroom visit, thinking that I needed to sit soon. When we arrived the gate girl pulled us aside and dropped a bomb on us. "Did you guys want better seats?" We looked at each other, did they do that sort of thing? We said there is 4 of us in our group, and she went off to ask if they had 4 tickets. I was stunned, was this happening? How much closer? I figured the next section down or something.
By then Dad and Rita had come back and we told them what was going on. We turned over our current seats and then got tickets for section 119. That was the next area down, and after getting directions on the fastest way there, we finally made it... and were shocked. They were closer already... really close. 4 rows away from the stage!!!!! Here is the view from our new seats of the stage...
... here is where we were to be sitting... yeah.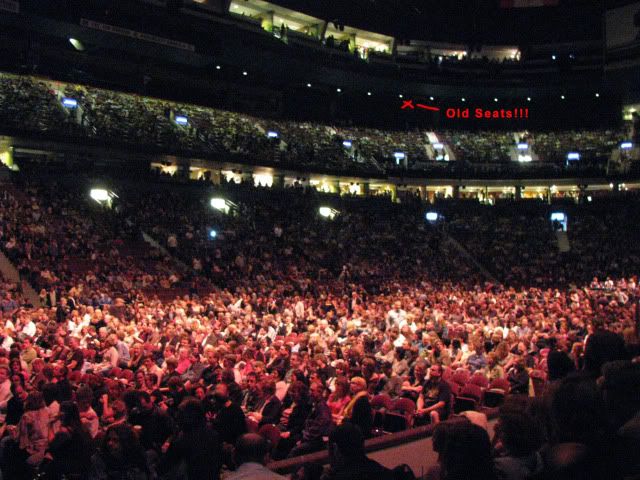 I think we all had dumbfounded looks on our faces for a few minutes as it sunk in. Then I glanced at the tickets... they were $216 ones! Ken wanted to take my picture, and I look like I am still in shock. I still can't believe it happened... nothing like this ever happens to me. Amazing!!!
I took my old camera to the show since it had video and was small enough to keep in my purse. I did think for a minute how amazing the seats were and how I wished I had my other camera, but its ok. I got some great shots to share with you.
Lindsey Buckingham, probably the closest thing I have to a celebrity crush. Haha. Love him!
Stevie Nicks, poor girl was getting over being sick but still rocked it out!
John McVie
Mick Fleetwood
Totally missed Christine McVie, but 4 out of 5 is pretty darn good considering Ken saw them years ago with only 2 original members.
Here are some video highlights of my personal favs. I wished I could have taped the whole show, it was truly amazing! Xander kicked through several particular songs, so I think he is going to be a fan like us, hee.
They played for 2 solid hours, and way past my bedtime, haha. I was so happy I didn't notice until we had to walk back to the car and I could barely move my legs. Rolled in just before midnight to thank Kara who gave us a brief rundown on Ariel that evening. She crashed at 730pm, during High School Musical 3. We went to bed only to be woken up by princess at 3am, most likely seeing if we were home. She snuggled with us and went back to sleep. We all slept in and had a very lazy morning... ahhh.