...aka, the longest blog ever. I really do advise going to the bathroom and getting a snack first... ok, you ready. Here we go!
So last week my blogging was lacking, mostly due to Ken needing to work and me being very tired. Here is a quick run down of the events leading up to my big birthday. On Tuesday, Ariel and I went to the park since it was a beautiful day.
Upon arriving home, we had a large parcel waiting for us... or namely Ariel. Inside was a new rain coat, boot and umbrella set. Ariel was THRILLED, and didn't take the coat or boots off until bedtime. She also kept asking when the rain would be coming... maybe not something everyone be asking, hee.
On Wednesday, I had a doctor appointment. Kara came over to sit with Ariel as we also were expecting the cable guy again. The appointment was ok, my blood pressure was up, however, I find it always goes up when I have to go to the doctor's. Sigh. I was in such a rush and panic getting there on time, that it makes me stressed. I came home and tested it again at the drug store and it was normal. Sheesh, I need to chill out. Blah.
Later that day we had Leah and baby Lilika over for tea. She also went through some of the clothes I was selling, and found some cute things for her little gal. Ariel was a big help with pulling things out of the bag to show Leah. She also showed off her 'mothering' skills, and was such a great little helper with the baby. Ariel sang while rocking her in the carrier...
... and played this little piggy on her toes. I can't wait to have Xander here and watch them together. Hee.
On Thursday, Ariel and I just had a lazy day at home. We did go visit Stella briefly at the Quilt store for some cross stitch thread, and saw the consignment store window displaying lots of Ariel's old dresses. I must say it was more funny than sad. I just kinda laughed, as if I was looking in her closet from last summer. It was really bizarre, haha. Ariel didn't seem to notice, which was good.
Ariel wanted to show you her spring look. I really wish I could find a skirt like that for me, its so pretty.
Thursday also marked a special day in my friend's lives. Chris and Dianne were finally holding their daughter! Yes, they are in Addis Ababa, Ethiopia and will be bringing their little girl home with them soon. We are all so thrilled and happy for them. Its been a long journey to this point, and I can't wait to meet her hopefully this summer.
Then came Friday, the big day... the big 3-0. I had a full day planned... mostly consisting of eating. Haha, seriously! We started the morning with breakfast with Stella and Donna. So yummy. Then had a nice walk home and I stopped in the kitchen shop to buy the cutest salt and pepper shaker they had in the window. It was a CUPCAKE! Perfect for the birthday girl. When I said it was my birthday, they gave me a free dish scrubby, yay!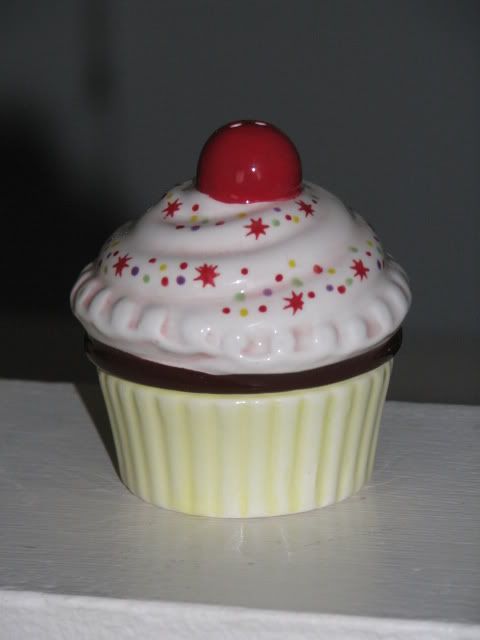 Then we met up with Dad and Rita and had lunch at the Greek place for lunch. More yummy food, whee!
Following lunch we had an appointment with Nav for a pedicure. She was so sweet and did Ariel's toes too. Look at our pretty feet!
After all that fun we had to rest, and wait for Ken to get home from work. We thought it be fun to go to the Boot for dinner, and it turns out Brenda, Kevin, Julie and Chris were all there too with all the kids. So it was a perfect end to the day to hang with friends. Ariel had a great time with the kids, and it was nice that she could play.
Dad had called to say to come by the house after dinner, and waiting for us was a very yummy coconut cream pie, my fav! Needless to say, its being enjoyed by us all. Hee.
Saturday arrived, the big party day. Thankfully, Ariel and I had another party to attend in the afternoon, which allowed Ken to get some things done without us in the way. Ariel had fun at Alasyn's 4th birthday, and had her first experience with a pinata. I think Christy was pretty brave holding it while little kids swung a bat at it. Eek!
Came home for a brief nap and then it was PARTY TIME! Can I say how scared I was, haha. I hate not knowing what is going on, so I was a nervous wreck. Haha.
Julie and Jo had come early to decorate, and it was so pretty...
...pink and brown, my favs.
My super cute Wall-E cake. Yes, I don't plan on growing up anytime soon, haha.
So many of my friends were there to celebrate and it was so lovely. Then Ken gathered everyone to watch me open my presents. Can I say I was totally spoiled! Such lovely things, cards, gift certificates and even birthday money!
Then Ken played a birthday greeting he got from some 'suprise' friends... can I say I nearly died!
Yep, he contacted Nat and Drew at my fav radio station!!! Oh my goodness, I was so blown away, and to have such a cool video to have as a keep sake is awesome! The fact they did this for him made me love them that much more. Eek!
It only got even better... then Ken read this poem and I got my special birthday gift from him and the family.
Dear Janet-

It's been 30 years that you've walked the earth
And we have all watched you grow.
We've laughed and cried with you and guided your steps,
Because we loved you so.

We know how you love to share your life
With the people who follow your blog,
Whether saying 'Hello' to Ariel,
Or saying 'Good-Bye' to your dog.

So this gift is for you to continue to show us
Just how much your life has been blessed,
For the pictures you take of your journey in life
Deserve to look only the best!
At that point I was nearly shaking, I totally knew what this was going to be... but even what I had pictured in my head was blown out of the water. Ken had gone to the photography department at his work and gotten them to help pick out the perfect camera for me. A Nikon D60 with a telephoto lens in a beautiful camera case.
I was nearly in tears as I pulled it out and held it in my hands. Ariel saw it and immediately shouted, 'TAKE A PICTURE OF ME!' Everyone burst out laughing and I just hugged her telling her I would take so many pictures of her.
With that the singing began as I watched the 30 sparkler candles on my cake glow. I just felt so happy and honored to have such a wonderful family and friends in my life. I am truly blessed. So we ate cake and visited till the late hours of night. Turning 30 really wasn't so bad, in fact, it was fun. So much to look forward to, and its a new chapter...
... I survived my twenties, maybe the most life changing decade so far in my life. Losing my mom, gaining a husband, a daughter and a son on the way. My journey is always changing, filled with joy, sadness, laughter and tears. I look forward to the next phase of life, wondering where we will go, but knowing that it will always be a great adventure. Ok, its been a long post, and if you are still with me, you are amazing, haha. I will save the rest of the weekend for the next post, along with the first pictures from my new camera! I need a nap, have a great week!