Well, I think I recovered from the last big blog, have you? Haha. Things have been a big crazy around here with Ken gone this week. Ariel and I have been making out ok, she of course misses her Daddy, but she has been busy enough to keep her mind off it. Same with me too, the hard time is when we are chatting online and have to say goodbye. Sigh.... only a few more days.
When we last left off I was sharing about the big party. The next morning we were up bright and early for church as Ken was giving the sermon. It was awesome and I was so proud of him. I will post the link to it once it is up online. Yay.
That evening we had a potluck dinner with our small group, even though I have been too sick and tired in the evenings to go. It was nice to see everyone and visit, although I was quickly crashing. I had to lay down on the couch after dinner and close my eyes for a bit. Its a tad embarrassing to have to do that, but I was told I was looking pale, so I guess I wasn't doing well. Blah.
Monday was crazy, Ken took the day off to prepare for his trip and to do a speaking engagement at a school for inner city kids about animation. He loves getting to do that, and he loves the energy these kids have for the medium. While he did that in the morning, I took Ariel to ballet class, and got to play with the new camera.
On the way home we watched the Hallmark Christmas TV movie they were filming. Ariel was really confused that there was snow... and even SANTA! I had to keep telling her it was all pretend, but until that snow was gone, she wasn't ready to believe me. Haha.
Proof it is in fact spring. Yay.
Then the rest of the day it was packing up Ken till the late hours of the night. Ugh. I think I went to bed at 11:30pm... but Ken was up later than that. I don't know how he was able to be up before 6am, which is when the cab was picking him up. I got up to see him off and then went back to bed and both Ariel and I slept till 10am. When we got up we decided to go to the mall for a girls day. It was a good distraction for me, as I hate when flying is apart of Ken's travels, and usually am on edge until I get word that he has landed safely. Shortly after lunch we got word he arrived safe and sound, yay! Our trip out was a success too, I found 2 new tees from Old Navy, and Ariel got a super cute mermaid outfit. Awwww. We even found a few things for Xander.
When we got home I had a birthday card from Ken's Dad in our mailbox which had some birthday money for me and a check for a shopping spree for Xander, woot. Can't wait for the fall stuff to come out so I can shop for my little guy.
Wednesday it was a sunny morning, so we walked down to the village for some groceries. When we got home, I was pretty tired, but got to work cleaning up. I got the garbage out of the car (yuck), did 2 loads of dishes, picked up the clothes, toys and general mess around the house. I even got the bottles back to the depot. Then I got a message from Kara asking if she could take Ariel swimming, and I think both of us were excited. Ariel ran upstairs for her bathing suit and was dressed and waiting to go. Stella brought her back later and I enjoyed my break from princess.
Today we went to have breakfast with my Dad, and I then left Ariel with him so I could go do my glucose 1hr test at the clinic. Blah, I hate that orange drink. Reminds me of that McDonald's drink they would serve at birthdays, haha. Gross! Hope I get good results, especially since my blood pressure is already being watched, I really don't want more problems. Sigh. Speaking of my BP, I borrowed my Dad's reader so I can test regularly. It hasn't been perfect all the time, but its not in the danger zone numbers that my Doctor warned me about. So it goes up and then down again... I guess if my blood work today points to a concern, then I will have to go on the medication that will help regular it. I don't want to, but I don't want it to develop into preeclampsia either. Whatever is best for me and Xander, that is what is important. Should have some answers this Monday after my appointment, so pray things are good and we are ok, as I tend to worry about my little guy.
After the test, I picked Ariel up and we came home to rest. I did some sewing on Xander's stocking, here is the week's progress.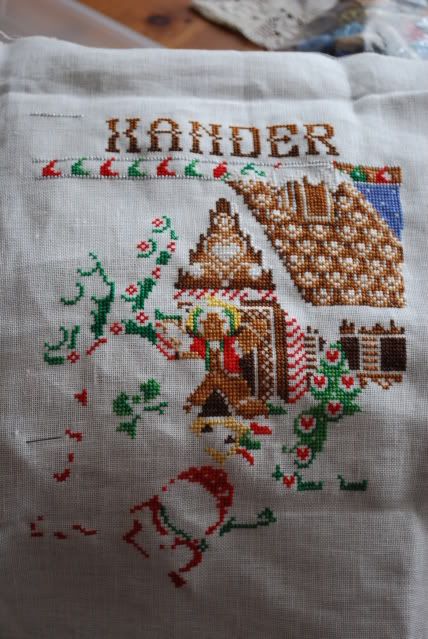 Ariel wanted to take pictures, so we got out our cameras to play.
My beautiful girl!
Tomorrow we have coffee party in the morning, and an open afternoon. Guess it depends on how much energy I have. Well, I better wake up Ariel, who has fallen asleep on the couch... in her bathing suit. Yeah, she likes swimming, hee.