Project 365
- Day 1
I was trying to figure out what might be a good starting point for this project, especially since its the start of a new decade. Finally inspiration struck me when I was tidying Xander's closet and came across his Olympic track suit he received as a gift. Needless to say, its perfect... welcome to 2010!
--------------------------------------------------------------------------------------------
I think that may be how I handle days when I plan on posting and need to post my regular picture for the project. That way its right at the top, whee.
Yes, here we are, a new year, new decade and yet we enter with the same weather we went out on .... rain. Oh well, more reason to stay inside and do nothing. I ended up sleeping in with Xander till 10ish, which was heaven. After all the work for our little dinner party last night, I was pretty zonked. Of course I took pictures so you can all have 'pretend' calories where as I need to do some major workouts this week, haha.
Yesterday morning I walked down into town with my reusable bag in hopes of filling it with treasures for dinner. In my mind I had a rough idea what I wanted to do, but you never know if you will find what you need to make it. My main goal was lobster, however the shop I usually get my little sea creature friends from no longer has their live tank. Doh! So I had to settle for the tails alone, but really in all respects that was fine since I spotted some lovely cuts of meat behind the counter and decided to add steak to the meal. Picked some veggies and then while passing the bakery spotted the perfect element for dessert that required no work from me, woot.
Grabbed some Subway sandwiches for lunch for the troops since I didn't need them trashing my kitchen. Got started on prep work and managed to watch a Youtube video about presenting lobster tails on top of their shell, so thought I might try it for fun.
While things were cooking, I set up the table for our candlelight meal. Added our funky 'wedding' dishes (we didn't pick out the regular china pattern when we got hitched) and topped it off with a picture of the family, since it was a good reason to be thankful for going into a new year.
First course was some brie stuffed mushrooms from a recipe I got from the Pioneer Woman Cooks. Super easy and very tasty!
Ariel was eager for the next course, I guess you can say the princess is back to herself and her regular appetite.
Next was our main meal with our steak and lobster tails. The steak was cooked in our rotisserie oven and the lobster was broiled, and soooooooo good.
With it we had baked asparagus...
... and a twice baked potato with blue cheese. Ariel loved this one... but then who wouldn't?
We stuffed ourselves and all agreed that it was far better than going out. Finally, to top it off I brought out my surprise dessert finds, kabobs! The store had put on a few of the different desserts they had in small pieces on the skewers. So the perfect tastes of chocolate covered strawberries, cream puffs, mini cinnamon bun and chocolate mousse cake. A perfect end to our meal.
As I cleaned up Ariel got ready for bed, but not before Mommy got a picture of her in her super cute outfit. My little golden girl.
When Ariel was in bed, Ken and I watched some of my Whose Line is it Anyways dvds I got for Christmas. We pulled out a bottle of sparkling wine to use at midnight, only to discovered our long saved bottle from 2000 was corked strangely (basically slipped right out with strange discoloration around the cork) and did not seem like we should attempt drinking it. Poopy! Before dumping it out, I used it for some artistic pictures...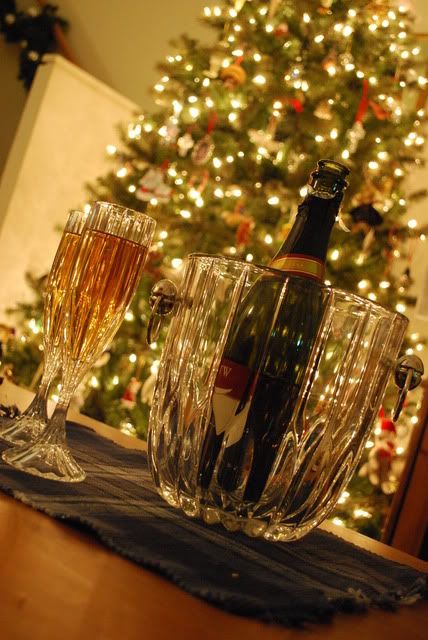 At midnight we opened the deck door and listened to the crazy people partying down the street. Xander wasn't too sure what to think of the noise outside, but enjoyed the Black Eyed Peas on the tv special. Shortly after that we went to bed... really once you have kids staying up past midnight really isn't that exciting. Haha.
So that brings us back to now, and our lazy day. We were expecting some friends over but they want to wait a few more days to make sure there are no sick bugs left in our home, understandable of course. Ariel unfortunately didn't quite get it and had a little cry because her friends weren't coming, but not much you can do to try and explain to kids they are a big walking germ.
I am looking forward to getting back on a schedule with Ariel, and I am sure she is too. Lots coming up next week, school is back in session, ballet starts up again and for 10 weeks we have swimming lessons too! Yay! I got Xander some swim trunks so he is all ready to go for his first dip in a pool, I am sure he is going to love it as much as his baths, hee. Ariel will be taking her first lessons in a class without Mommy, so that should be interesting. Wish us all luck!
We also got an email today from my cousin Kyle's fiancee with the dress Ariel will wear to fulfill her flower girl duties in their wedding this summer. Oh it is just adorable! We all oohed over the beautiful dress, can't wait to see her in it. I love that her color is Tiffany blue, so pretty... I remember there was a chance of being Canuck blue, glad Lindsay won that battle!
It is also very different from the dress she will most likely wear in the other wedding she is also a flower girl for, so that is very cool. Hoping I can find a dress for myself just as nice... but I guess that means no more blue cheese stuffed potatoes. Haha! It was fun for the night, but I have turned back into a pumpkin (literally, lol) and need to shred some of this extra Christmas weight. Guess I better go plan some healthy meals for the new week, see ya tomorrow! I'll leave you with what just came to find me at the computer, hee, never a dull moment around here.