Project 365
- Day 50
I can't take credit for this joke, Ken shared it a long time ago and since then I still keep my eyes peeled for hand-dryers with this picture on them. The red lines resemble bacon... so if you put your hands out under this dryer, you get bacon... or you can just eat them directly from the machine... yum!
-------------------------------------------------------------------------------------------------
Its Friday again... tis the last time I blogged too... wow, a whole week gone and boy it was crazy! So lets go back to last weekend. Saturday was quiet and nice but Sunday was filled with Valentines fun. First off in the morning Ariel and I made Daddy a special breakfast using our heart shaped mold. We did an egg thing that had ham, cheese etc. Also a few pancakes.... once I figured out how to use the silly mold without wrecking them. I ate the ugly ones, haha.
Then we took our creation to Daddy and Xander in bed. Xander was just in his diaper after giving Mommy the lovely valentine gift of a diaper blow out, ugh. So we just said he looked like cupid.
Following breakfast we did some small gifts for each other. The kids each got a Chipmunk toy...
... or Chipette as Ariel is constantly correcting me. I got a really sweet card from Ken with some very beautiful words written himself. Aw, and a little pin of some silly elephants that he thought were funny.
The kids and I got Ken some cute picture frames for his desk at work. Hee hee.
Valentines day also marks Ariel's half birthday, and we gave her a little something special for being half way to 4, and a huge help to Mommy these days. It was a special charm bracelet that I had been putting together for her. Has several charms including a 'binkie', an 'A' for Ariel, her birthstone, a ballerina, princess crown and even a slice of pizza to name a few. She was in awe of her gift and proudly wore it to church showing it off.
After the service it was soup and bun day, so we had a nice lunch with some friends from church. The soup was awesome too, yummy! Then as we got in the car to come home Ken whips out a bouquet of roses! 'How did that get there' he said, oh I was so surprised. I wasn't expecting them and so touched he wanted to do that... and better yet, he didn't pay an arm and a leg (my concern after being blown away). Haha.
Dinner was my gift, I made a repeat of last year's dinner which was so good. A soup, then Cornish game hens with stuffing and veggies. Soooooooo good! Dessert was Ariel's fav, chocolate covered strawberries and some sugar cookies. Happy Valentines indeed.
This week Ariel had a sub at school as her teacher was on a trip! Thankfully she was just as happy with her as her regular teacher, she handles change better than her mother. Ha! On Tuesday Ariel's dance class went well... and yet I keep encountering 'STAGE MOM!' Ugh. She is sooooooooo unfriendly, she never responds to any of us saying good morning... no smiles. She just talks to the teacher and asks what her daughter should be practicing... um its a preschool class! I feel bad for her little girl who always looks miserable. Sigh...
The main focus this week has been the Olympics. I am a junkie! The tv is getting a major workout with it always tuned in. Ariel loves cheering for Canada... or whoever is racing in fact. On Thursday, Ken cashed in one of his holidays and we decided to go into town with the kids to experience the excitement first hand! I must say I was worried about it, but in the end it went sooooooooo well. The kids handled it and my claustrophobia stayed at bay for the most part, haha.
We started our adventure on the new Canada line, for the kids and I, it was our first time riding it. I must say it was pretty cool! Not to mention only paying $2 to park our car all day at the lot so we could ride it. Ariel was nervous at first of the train as she called it, but quickly was chatting away to the entertainment of others. 'Wow, this is fun! Oh we are stopping for more people. Wheeeeee!'
Since it was early, we decided to go visit the cauldron first before the lines formed to wait to get up the viewing location. We did have to wait maybe 15-20 minutes, but Ariel handled it well... although she said 'waiting is hard.' We got up and had several family pictures taken by the volunteers. It was such an amazing sunny day that it somewhat washed things out at time, but oh well.
Daddy and his big girl...
...me and my little man!
I will say the cauldron in person is amazing to look at. The detail is so lost when seen on tv. If you can go see it I highly suggest doing so.
Then it was off on the Sky train to head down to Science World and to see Stephen Colbert filming his tv show! As we came in, we caught the size of the crowds from the train. Crazy!
We could not have timed it any better, as we walked up he started filming and the sound was awesome so even if you were far back you could hear everything. The hill made it easy to see him without having to stand in the mud and well, my telephoto lens made pictures fun too. Hee.
There was a little playground on site so under Daddy's watchful eye, Ariel got to play while we took in the show. We stayed for awhile but then decided to go back into the city to eat so we could catch the show Ariel wanted to see.
Of course we had an official Olympic sponsored meal... er Ariel's pick. We ate our lunch on the steps of the beautiful library in peace... took me back to working in the city. After feeding Xander, getting all the potty trips done by all, we got on our way.
Robson square was busy with activity. By the art gallery we found spots for pictures including a luge...
... and the countdown clock, which I think is counting down till the Paralympic Games, but not sure.
Check out the art gallery's in its 'wall paper' people have been calling it. Hee.
In fact, lots of wallpapering of buildings, the biggest flag ever....
... lots of ads, Ariel liked this one, duh!
Speaking of the mascots, Ariel wanted to see them in person and thankfully we had been told by a mom about the ice show! It was awesome, we had a blast watching our furry friends. Miga even came to say hi to Ariel, she was in heaven!
Ken taped the show to share with his family, so I have a feeling we may be watching more of it around here too. Haha.
By that time the crowds were growing and we were feeling pretty tired. I would have enjoyed doing more, but decided after viewing the art down Granville that we would call it a day. I am happy we went down, maybe we will get back to see more, but I am happy with what we did and that the kids were a part of it.
Today was packed! Ken was working from home so we left him in peace to head to coffee party. It was fun to visit but sadly it was cut short as we had to head to swimming. Only a few more weeks, and I am looking forward for the break, makes for a long week sometimes. Xander had a ball and was all smiles and cooing for our instructor. Ariel, she was cute as usual, but managed to make me go beet red in the change room today. As we got ready, an elderly woman came in from her swim and started changing. Ariel glanced over and started a conversation... 'You have big boobies like my mommy!' My head was down at the time and I didn't want to lift it. Thank heavens she laughed and said, 'most of us do dear.' She thought Ariel was a doll and continued to chat with her as I got Xander ready.
After class I dropped Ariel at home to have a quiet time while I zipped into Richmond. Well, it was nuts, and I wish I didn't go, but it was the long awaited baby sale and I had my eye on the kids Easter outfits. I got a parking spot after 'stalking' people to get a spot... only to have some lady in another car go bananas that I took it, I guess she felt she claimed it hers yet she was no where near it?! So I tried not to make it worse and just got Xander, who was sleeping, into the stroller.
Got in and got the kids clothes and took a chance to grab a few cheap t-shirts for myself. Then got back out to the car where now I was the one being stalked, haha. With an Olympic venue so close this was no surprise, but I didn't think it be that crazy. As the car waited for me to leave, I prepared to back out but instead witnessed another car back out and crash into the car waiting for my spot! I seriously have no clue how they didn't see them, but I had to then get out, exchange info as I was the only witness to the event. I will say... both were REALLY nice cars... aka expensive sports ones that crunch easily. Oof, sucks for them.
We got on the road to come home finally and hit traffic at the tunnel... an accident, doh! Another 30 minute wait, thankfully Xander was happy as a clam and cooing away. I got in the door and Ariel squealed and was in the Gymboree bag as fast as could be to see her dress she picked out from online. She was so excited and all I could think about was how much Nana would have loved this dress with the tulips all over it. Sigh...
Xander was just as handsome in his Easter goodies too... these will double as wedding wear for the upcoming weddings. I plan on getting the kids pictures done too with Maria with her annual Mother's Day shoot, so these will be perfect as they go nicely with each other.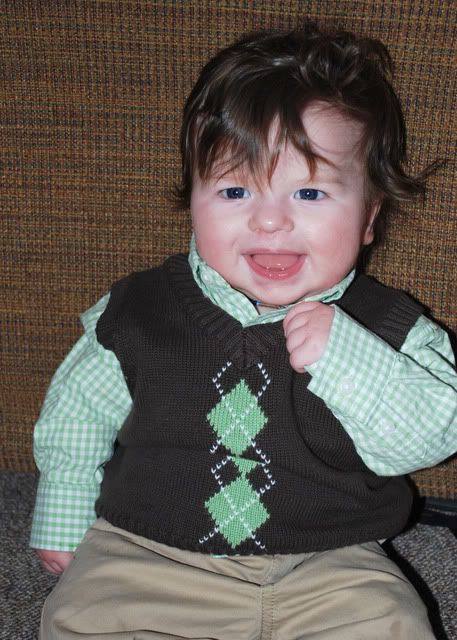 Tomorrow I have a dentist appointment, blah! I am pretty sure I have a small cavity that I noticed on my tooth... we shall see. Ariel has an appointment next week too, so I need to remind her about how 'fun' the dentist is, oh boy, haha. Ok, have a great weekend everyone, I am gonna get some tired kids into bed.