Project 365
- Day 43
Tonight we welcomed the world! Let the games begin! Our jelly bean rings, hee.
----------------------------------------------------------------------------------------------
Well its been a busy week. Lots of excitement with the Olympics starting tonight, and we managed to be a part of a bit of the festivities with the torch coming through town. But lets go back to the beginning, more for my sake, just so I can keep it clear in my head, haha.
Saturday afternoon we all went to Richmond to do some shopping before the Olympics started and closed various roads. Ken got some supplies for his classes... and I got a spring outfit for the kids at the Gymbo sale. Hee. Do you think Ariel is gonna be a model?
My little man, does he just make you go AW!!!!!!!!!!!
Sunday evening ended our weekend with a bang... while Ken was changing Xander as I finished cooking dinner, our little man took a dive off the table to the floor below. THUD! Needless to say there were lots of tears... mainly me of course, Daddy and Ariel... Xander cried but recovered much faster than we did. Being on the safe side we decided to take him to the ER to get looked at since he was nearly asleep when it happened and we couldn't judge a sleepy baby vs. a lethargic one. Of course he checked out all fine, but it kinda put a damper on our night.
Monday was Ariel's Valentine party at school. We made heart shaped sandwiches in jelly and some ham and cheese. Gotta love cookie cutters!
Ariel loved getting to hand out her valentines finally! She had been very anxious and they were a hit! One of the moms told me later in the week that her son carries Ariel's one around the house calling her his 'girlfriend', too cute!
Here are her cards, I can't remember if I shared them or not. We added heart shaped suckers to the back of them with some Valentine Elmo stickers Ariel picked out.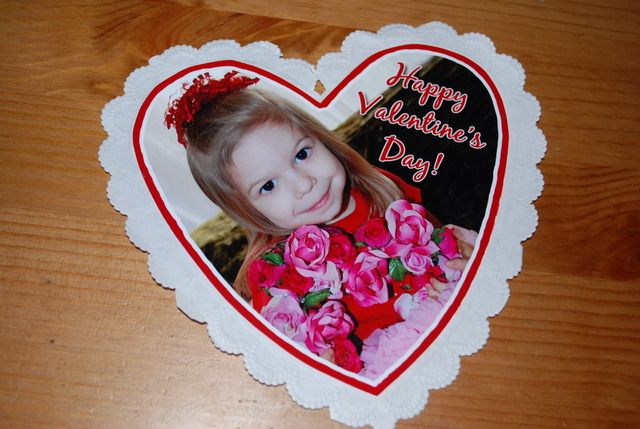 Then on Tuesday Ariel had ballet in the morning and then the afternoon was finally torch time! We decorated the stroller with our stuffies and flags to go down to the festivities. Ken happened to be home early from his appointments in Langely that afternoon and got to join us!
Ariel waving her torch with pride!
It was a long wait for the kids, but it was worth it. Both kids got their pictures with a torch! (Ariel was mad it wasn't the real 'lit' one)
Poor Xander can barely peak over the stroller, haha.
Me and my little man!
My Olympic cuties call it a day!
Here is a quick video of the torch going by.
Wednesday was a more normal and calm day, Ariel was back at school and got to celebrate Chinese New Year. She loved the chop sticks, but pointed out the tea was not good. Haha.
While Ariel was at school, I had a meeting in regards to the fine arts camp we are organizing. Our good friend had the idea and has been pulling in people to make it a reality, so its coming together. Yay! Basically, its a summer camp for kids 6-12 ish to come for 4 mornings to learn about an art form of their choosing, and then present what they learned and created at the evening show on the final day. We are planning on offering dance, cooking, painting, animation, writing, drama and more! I will keep you posted as things progress, but I am very excited. Now I just need to make some promo materials in 2 weeks!
Thursday we had a play date with friend Erin. She had lots of fun Valentines activities for the kids to do, and Ariel loved it!
Xander also caught up with girlfriend Brielle. Too cute!
Then today we had swimming lessons in the morning. However, before that we were glued to the torch relay footage that started at 6am. Watched the Terminator, Arnold Schwarzenegger carry the torch, kinda wacky. Ken called from downtown to share the noise and craziness over the cel phone.
Ariel insisted on using her Quatchi towel at swimming, very festive indeed.
Right after that we rushed from the pool to the birthday party of Ariel's classmate. She had a great time but of course such a busy morning made for a very cranky and tired girl when it was time to go. Lets just say lots of tears and shouting, not her proudest moment, but not much I could do.
The rest of the afternoon I set up our little party. Gotta love our tribute to the rings with our jelly beans. See our torch, ooh. We also got all our McDonald toys, haha!
Well, we are just watching the Opening Ceremonies again on the USA station, and I believe I saw Kara more in this feed than the Canadian one. Maybe they had different camera angles, but either way she did a great job. She was in the fiddle number, so awesome and frankly our fav with the music.
So the games have started, and we hope to go down next week with the kids to experience the excitement first hand. At this time, we hope and plan on a quiet weekend after all the craziness this week. Ahhh, off to bed now. Good night!