Ariel is an interesting girl sometimes. She can be down right sweet and adorable, but she has the funny 2 year old side that can surprise you when you least except it. In the past few days we have had a few note worthy moments that I will be sharing. But first the good news... Ariel has been pooping in the potty perfectly since her light switch moment on Tuesday. In fact she tells me, or just goes on her own and shows me after wards. Its very exciting, and I am so pleased.
Thursday morning we went to Richmond for the Gymbo sale and Ariel got to pick out a new swimsuit for her pooping success. She was beyond THRILLED. The rest of the day was filled with, when will we go to the pool? Haha. Her taste this time was very simple but cute. A bright pink one piece with tutu style trim. Even a straw hat to match...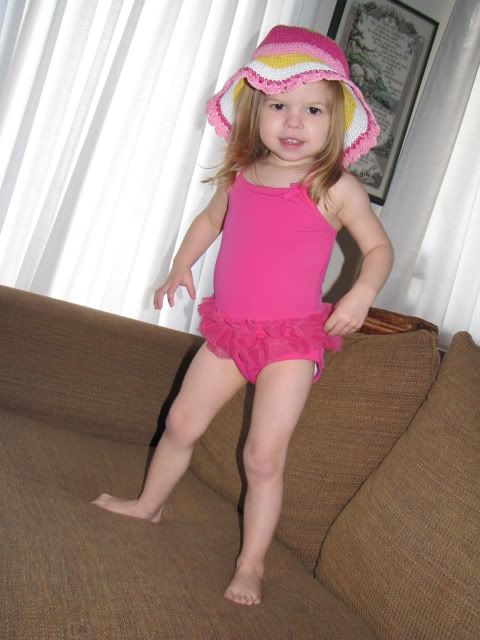 ...and cover up too. Did I mention I was excited about the poop in the potty?! She got spoiled, but then she never did the chocolate rewards, clothes are this girl's game. Haha.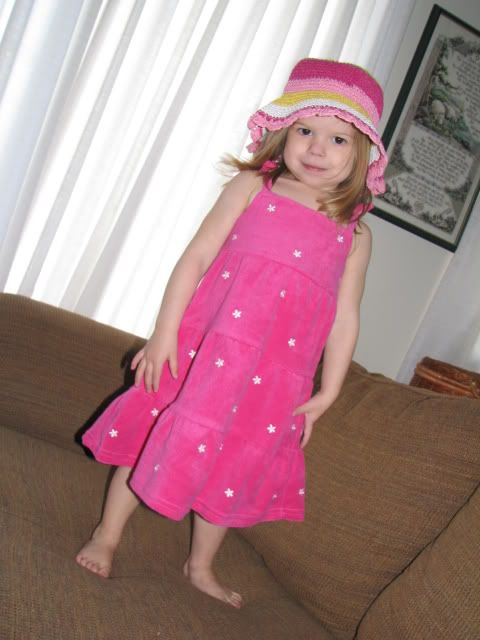 Mommy also picked up some cute shorts and tank top...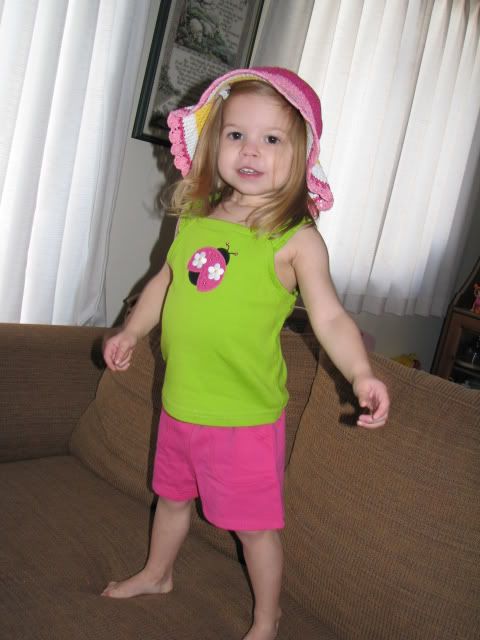 ...and a party / church dress. Gotta love lady bugs!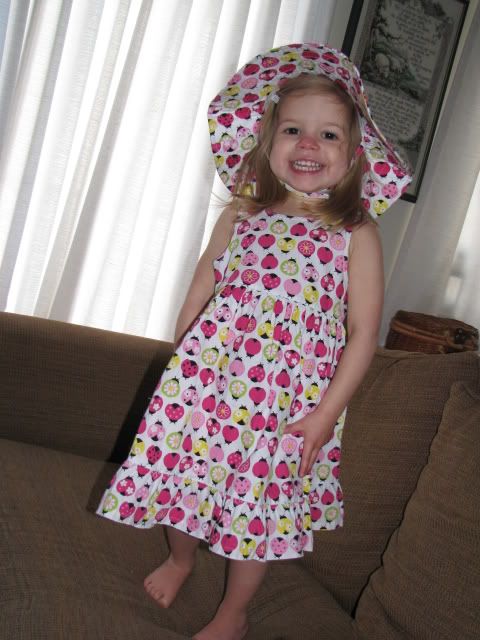 After the mall we detoured to another shopping area before going home since I wanted to go to a maternity shop. I was eager for one new piece to throw into my routine of 4-5 things I wear constantly. I was happy to get a cute purple dress with black leggings. Very cute, and if you are nice, perhaps a picture soon of my in it. Haha.
When we came home, I set Ariel up with some apple for a picnic. She was quite happy and wall-e joined her.
At some point, she decided that her blanket was too bare, and started to help herself. I heard her and peaked over the railing and ran to get the camera... this is what I saw.
Friday morning we were going to Dad and Rita's for a quick breakfast since they were taking off shortly afterwards. I had to stay out of the house since Chels was over cleaning for me. This was my early birthday present from Stella, and it was AWESOME!
After breakfast, we met up with Stella and Kara. I got to see the kitchen at their house torn apart, crazy! They are remodeling it, and it will be quite something when its finished. We went to lunch and Ariel showed off her eating by polishing off her pizza and half of my sweet potato fries.
After a quick stop to visit Joanie and to look at shoes, we went back to Stella's while I still waited for Chels to be finished. I know the first clean is always long, but I must say I felt bad at what state of mess my place was at. Ick! It wasn't too long till we got a call that she was done and came to drop off my key.
Kara got ready for work and then left while Stella and I worked on finishing the cupcake quilt. Just need to hand sew the binding, and woot, its done! However, during this time, when we thought Ariel was watching tv, we came up to find... well, lets just say permanent marker in a 2 year old's hand. Everything was saved, thank heavens or we might not have been able to show our face again, haha. I brought Ariel home, for a long talk, and a bath. Yeah, leaving her alone was partly our fault, so I can't be terribly upset, but she still was naughty and had to help clean. Surprisingly, her clothes were untouched! Perhaps she cares more about them than her face?
Sooooooo, the leads us to now. Our house was amazing! Ariel came in and said 'Mommy, its clean!' Perhaps she needs to see this more, am I setting a bad example? Haha. Anyhoo, Ken is almost home, thank goodness, I am zonked. Its been a good week overall, but kinda busy. Well, have a good weekend everyone.