Yes, I promised my belly pic yesterday, but when my regular blogging time rolled around, I was hanging out in the bathroom with my good friend potty. Ugh, long story short, I skipped my afternoon pills thinking I was ok and didn't need them, and was sadly mistaken. The result was tossing my cookies and laying in bed for 2 hours to settle my head and tummy. Ugh. I was able to eat dinner, although I was pretty scared for awhile it would be back to haunt me. I took my evening pill a tad early to help and it seemed to work. I have learned my lesson... the hard way. Blah!
So Wednesday was pretty quiet... in fact I can barely recall what happened during it. Oh, I remember getting my pregnancy newsletter via email telling me my baby was the size of a baked potato. Hmmm, that got me wanting a baked potato pretty badly. Haha. Here is my belly pic, excuse my lack of make up. I realized of course after I took the picture. Oh well.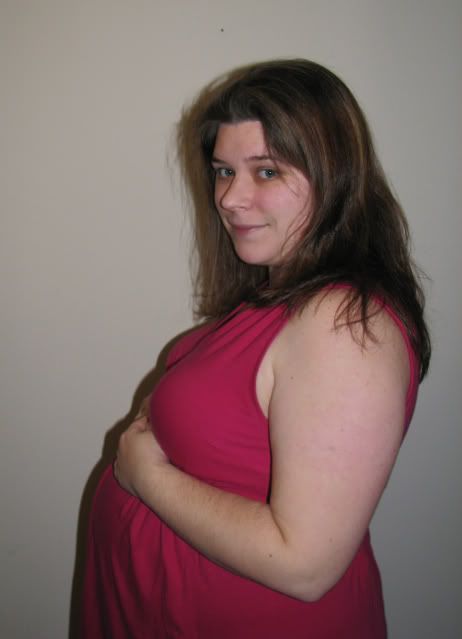 Oh I remember now... we had a huge customs bill surprise! Ken's mom had ordered Ariel a cute outfit and had is shipped directly to us, not knowing that UPS tends to have huge brokerage fees. Let me say in the end with tax, duty and brokerage... it was $54! That was HALF of what she spent on the outfit alone! Good gravy! I emailed her to tell her what happened and she was shocked and frustrated as I am sure she would be. She emailed the company and they ended up getting a gift certificate to their store, which I am surprised about. Not many places are so giving with these sorts of things, but maybe in this economy they don't want to lose customers they have. Ken's mom was kind enough to offer to pay the 'fees' but I still feel bad she had to do that after the lovely gift. Ariel loves the outfit, especially the matching purse.
Thursday was far more exciting, as Brenda came early to collect Ariel to take her with her other day care kids to the bird sanctuary. Ariel was pumped to go and waved goodbye without a care in the world. I then had until 2pm to do anything I wanted! With the laundry already done the previous night by my wonderful hubby, I was free to play! I walked down to the shops to get the banking stuff done and pick up some lunch meat for Ken. On the way back I stopped at the Thrift shop since I never get to go in. I found the best surprise, and quickly scooped it up for the $3 price tag. Stay tuned later in the post to see what it was, hee.
After dropping off the item at home, I realized I forgot to get the thread I needed at the quilt shop, so ran down to get it. I totally lost track of the days, and was surprised to see Stella. Right, its Thursday. Haha. Had a visit and then when lunchtime came, Kara showed up to eat with her mom. The shop suddenly got very busy, so Kara and I got some sushi (don't worry, no raw stuff) and had a yummy lunch and got to chat.
It was finally 2pm and I drove to pick up Ariel who was in no rush to leave. Poor girl cried most of the way home. She sure has a blast with Brenda and the kids. However, the surprise I had waiting at home soon made the tears disappear. There waiting for princess was her pal Big Bird!
She was totally taken with him and when I put the tape in the back (he came with 2 stories and books) she was in LOVE! His eyes still move, but the mouth doesn't move anymore which is a bummer, but what do you expect for $3? Didn't matter much, since she sat on the couch following along as Bird talked to her. After listening to the books several times, she watched Arthur with him. Best friends, awww.
Ken came home and was just as much in love with him as Ariel. Who is the bigger kid? At that point I had already been sick and was just feeling better enough to eat dinner. Soup and scones were yummy and I was very content, although still feeling slightly queasy.
Today was breakfast with Dad and Rita in the morning. Following that we visited the fat ducks, who were running up the path to see us.
Once returning to the house, Ariel and I ended up tagging along with them on their trip to Costco as I had been itching to go and get Pinocchio that Ken needed for his work. Also picked up Bolt for Ariel's Easter basket and I got Twilight, yeah I am a dork, deal with it. Frankly I was more interested in the behind the scenes stuff, and its good to have mindless movies to watch with knowing Ken will be going out of town a few times in the next few months.
Then we had an awesome lunch of Chinese food at one of Dad's favorite spots. It was super cheap and soooooooooo good. We brought home the leftovers for Ken, aren't we nice. Haha.
In the afternoon I baked the cakes up for my special top secret cake for Dad's party on Sunday. In the five minutes that it took me to go upstairs before Ken came home, Ariel managed to take several large bites out of my hard work!!! I have huge mice apparently. I didn't know whether to laugh or cry. Thankfully I still have time, but I am not pleased with Ariel at the moment. She knew not to touch them, but did anyways... needless to say there is some big timeouts and talking happening. Ah the joy of the 2 year old. Oh my poor cake, it was looking so nice... know it looks more like swiss cheese.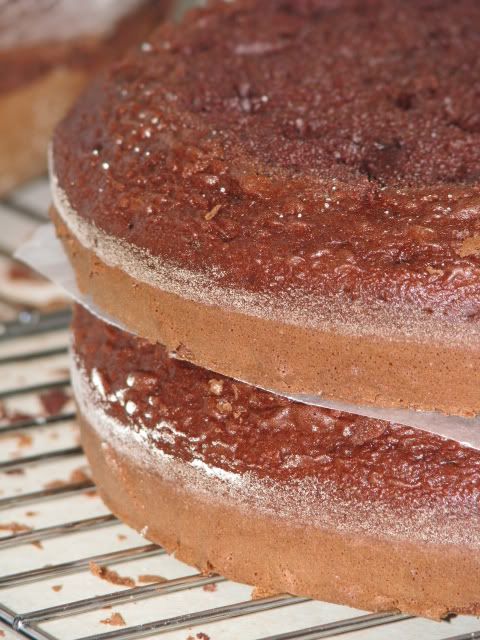 I will post the top secret cake pictures on Sunday night so stayed tune for that... that is if I can keep a certain kid out of my stuff. Ha!