I don't want to totally jinx it, but as of today, Ariel has pooped twice in the potty by herself!!! Huzzah! Last night we were playing ballet and she was showing me her fancy moves and then suddenly she stopped moving and crossed her legs. I looked to her and asked, whats wrong? She looked up, 'I need to poop!' I scooped her up in my arms and ran to the bathroom. Within moments the deed was complete and there was much rejoicing. YAY! We had to call Nana to share the exciting news because Daddy was in a meeting. The rest of the evening Ariel glowed, smiled at me and said 'I pooped the potty.' Now the big test was, would this happen again... you may remember the one fluke night last month that resulted in several weeks of accidents. I went to bed strangely excited to see what the next day would bring. More on today's development a bit later.
Ken got home really late, but he had a little present for me. Eek! I was so excited, it was Muk Muk! As you know I am IN LOVE with the 2010 Olympic mascots, and have all 3 stuffies. Well, this little guy is their 'official sidekick' and hasn't been available yet. So to see him in my hands had me totally giddy. Yes, I am total weirdo but its cool by me, haha. I love my Muk Muk, and so does Ariel. We already talked that this is Mommy's toy. Haha.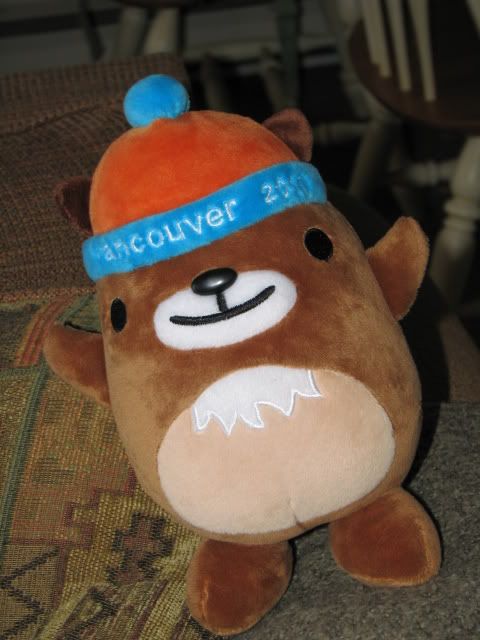 So today I am 15 weeks! Crazy, and yet exciting to see that half way marker in the distance getting that much closer. This morning was rough. I took my pill but apparently it was too late, and was sick. Ugh. Yesterday I was feeling so good, but it seems baby likes to remind me that its still here. I was pretty queasy all morning but am feeling ok at the moment. Here is the picture I really didn't want to share, but oh well.
Speaking of pictures, Maria is doing her annual
mother's day photo event
. Since I am not feeling so pretty these days, we are passing on the usual family portrait, and just getting some updated shots of Ariel for up coming birthday presents in the family. If you are in the area, look into it since they always help a great cause. This year they are supporting
Calcutta Mercy Ministries
, very cool.
Today we had a full day of activities. It started off with Ariel and I driving to the church to load the program I am using for the directory on to the new computer in the office. Once that was done we did a test print to make sure everything would print perfectly for cutting. Ariel was a angel and colored quietly while I got my work done and I am happy to say it was easy as pie! We just need to finish up some last minute picture adding and its going to print, woot!
Next we stopped at the bakery for a cookie treat for Ariel's good behavior at the church. She picked the creepiest smiley face cookie I have ever seen. I wish I thought to take a picture, but it would give you nightmares. Eek! Ariel is giving her best interpretation of it. Haha.
Then we met up with Erin, Carter and sleeping Brielle at the park. Poor Carter wasn't feeling that well, but slowly perked up. Ariel was loving her playtime and kept telling me she wasn't going to poop at the park.
Wheeeeeeeeeeee!
When it was time to come home we stopped by the quilt shop to say hi to Lala and Ariel got to make a little pillow for her dolly. Here is Tink sleeping on her new pillow and scrap fabric blankie.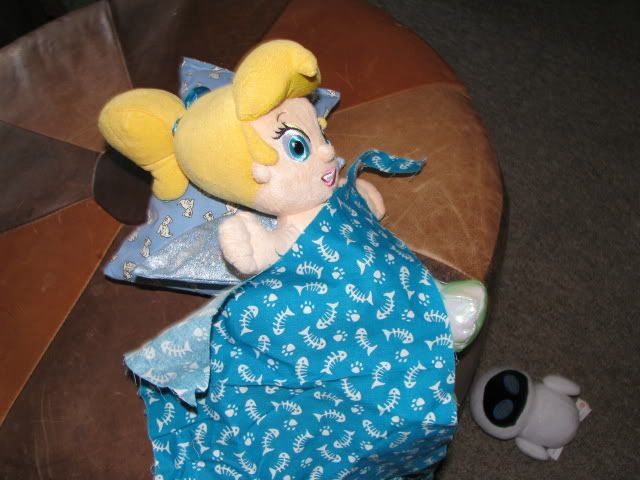 I was craving some popcorn, so we made up a big bowl to share. Ariel is the watcher of the popper, and takes her job very seriously, hee.
Shortly after our snack Ariel looked to me and said, oh I need to poop. This time she went to her little potty and sat down and HUZZAH, we had our second success! There was much rejoicing again and Ariel was so happy her face nearly burst. So could this be it, the real beginning of the end? Sure I know we will still have accidents for awhile (usually when she is watching tv and its too lazy to get to the potty in time) but I am encouraged, yay.
So next Friday marks the beginning of the ULTIMATE BLOG PARTY! Woot. I took part last year and it was a blast and got to find some fun new blogs to read. Click the banner for more info if you want to join the fun. My party post will be next Friday for the kick off. Hope to see ya there!