So ever since Ariel got dolled up for Sienna's princess birthday party today, she has kept correcting us if we use her name Ariel... 'I'm not Ariel, I'm a princess.' Yeah, we know! Haha. So in the wonderfully cooler weather of today, we drove up to Surrey to attend Sienna's special day. Ariel was very excited to get to wear her Cinderella dress again, and Mommy was happy it still fit!
I even did a fun hair do thanks to this
link
even though it was for more of a Tinkerbell hair-do, I thought it be easier to do on Ariel's fine hair than the Cinderella one.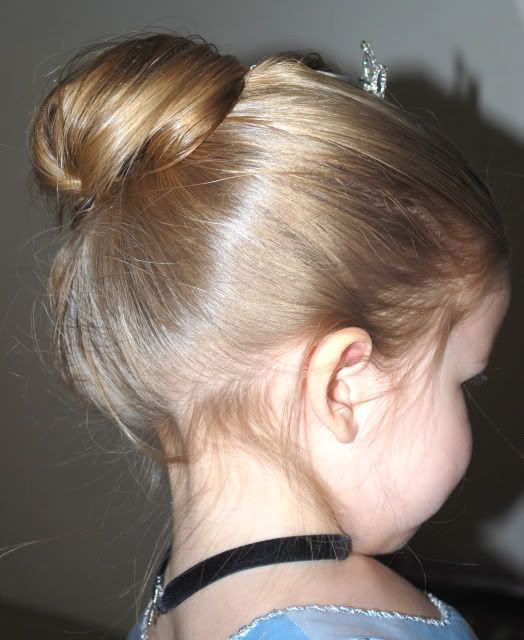 Did you know princesses play video games? Haha, indeed they do!
We arrived at the party and Erin got the princesses all 'glammed' up with make up and nail polish.
Ariel showing me the final product of the colors she picked.
Erin and her daughter Sienna the birthday girl. Her princess dress was a special gift from a friend who visited the Disneyland in Paris, ooh la la! So pretty!!!
Prince Carter wasn't too sure about his 'red highlights' but it sure looked cute.
Next was craft time and the kids made sparkly frames.
An 'Ariel the mermaid' pinata was then beaten by all the kids. Yes, I know its kinda creepy Ariel is hitting Ariel. Haha, but in fact she needed Ken's help, she just couldn't do it. I think its all the 'hitting with sticks is naughty' talk she gets at home, she literally shook when cheered on to hit the pinata. Poor girl, I think she was really confused, hee.
We sang for Sienna and she blew out her candles... but it was about then that Ariel had started to drift into melt down mode. She was very overwhelmed with everything I think, and was practically in consolable at times. Ken and I each took turns removing her to outside during the present opening to try and calm her down. I think its a combo of being overtired and over stimulated. Just soooooooooo much excitement and up too early this morning didn't make for a good mix. Sigh...
We did manage to get a few smiles again at the end of the party with some dancing... that just makes everything better.
The rest of the afternoon was very lazy as Princess and Daddy hung out and Mommy disappeared for a much needed rest. Ahhh. I must say the sleep was much appreciated, especially since my foot was killing me. Ah yes, I didn't mention my latest accident. Yesterday while cleaning the living room, I bashed my pinkie toe into the ottoman and hear a 'cracking' sound. It didn't hurt at first, but then it started to sting. I iced it and before I knew it, half my toe was a lovely shade of purple. Ugh. I think I sprained it since I can still move it, but its sore to walk on. Just what I needed eh?
We got some fun mail this week, first from my secret exchange buddy from my new 'due in September' message board. An adorable little personalized onesie for Xander along with some teething rings.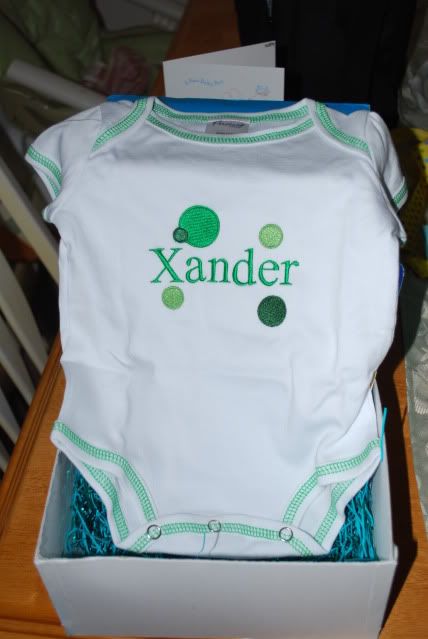 Then Ariel got her birthday present from Jill and her youngest daughter Leila, who live in France. Ariel loved the new outfit and had to wear it right away. Its amazing we have known them and the other girls for so long, and that we met the same way on a 'due in August' board.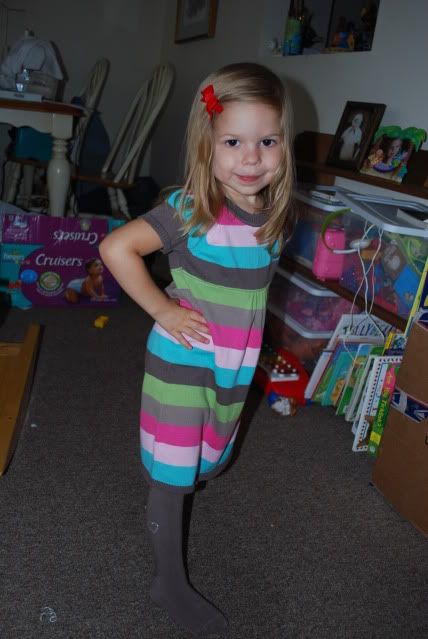 They also sent a newborn sleeper and some cute shoes for Xander. So sweet!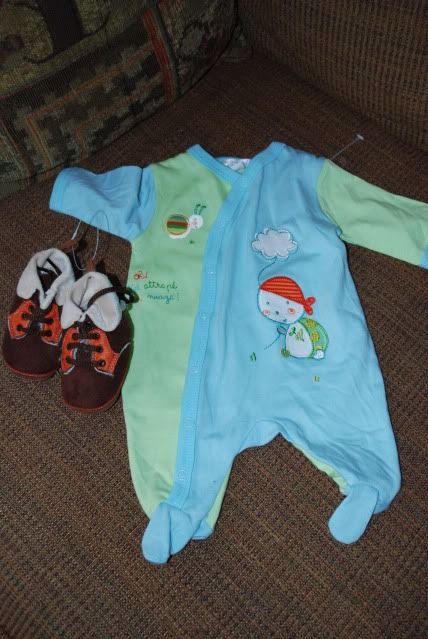 Well, we managed to get Ariel in bed and asleep before 8pm, so I am going to head to bed and Ken is going to watch some movies. Have a nice evening everyone.