Ok, I am having a 'mommy moment'! Look at my little girl's signature! Yes, she is writing her name and I am sooooo impressed. Ariel has been really into writing 'letters' to people like Grammy. Basically the sheet consists of scribbles that in her mind are a real letter and she is very proud of them. This then lead to her interest in writing her name, but she only felt confident in doing 'A's. Then this week we slowly took time to practice letters and then tonight she put it all together! Way to go Ariel!!!
On Wednesday Ken was off work for Remembrance Day. It was a sunny day, which is always nice when you have to stand outside for the ceremony. Ariel was excited for the parade and was sporting her poppy on her dress coat.
Me and the kids. Xander stayed awake for a bit before dozing off.
Ariel still is a bit young to stand through the whole ceremony, so she made friends with a little boy and they played in the field. At the end, we took her up to leave her poppy behind.
We came home for lunch and a lazy day of laundry and hanging out until Mike and Jo came over to join us for dinner. I got some painting done on the ornaments Ariel and I started a few days ago. Yay, little snowmen!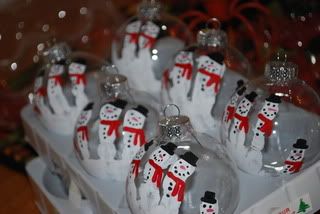 For dinnerI made ribs in the slow cooker, twice baked potatoes and baked asparagus. Yummy! Ken even went out and got a bottle of wine. I didn't eat too much, but it was hard not to, the food was soooooooo good. Xander passed out from all the fun. What can I say, my boy loves to sleep. We had a nice visit and after they went home we got the kids in bed and watched a new episode of Glee, loved it!
Today was a fun shopping day. The kids and I dropped off the car for its oil change and to get a new brake light that had just gone out. Then Stella picked us up and we went out to buy flannel for our annual Christmas pjs. I found some really cute red snowman print fabric, but they didn't have much, so Ariel and I will have our tops with it, and a different red print for the little shorts. Both me and my girl don't like to get overheated and its a fun change from the regular long look we have done the past few years. Ken and Xander will get the same material but in the blue version for their pj pants, and white tops. It will be very cute and I am excited. I also can finish Xander's stocking now since I will use some of his blue flannel for the backing, so he will always have a piece of it to look back from his first Christmas. I did the same with Ariel, hee.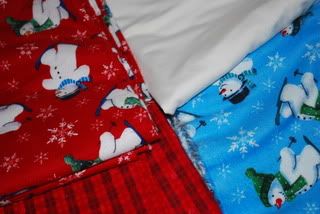 I also got some fabric for a new red tablecloth. Seriously, if you ever want a nice tablecloth, go to the fabric store, buy the amount you need and then you just have to finish the edge. Much cheaper than store bought ones and just as nice. I can't wait to see how Nana's china will look on it, so pretty. I also got some cute cotton prints to make some placemats. I made everyone placemats last year for gifts, but I never got to make any for us, so its our turn. Yay!
We had lunch at Pizza Hut and came home to a call that the car was ready, and everything was good. I thought maybe the muffler was going, but its fine, so that is good news.
In other crafting news, I got the painting done for our card, just need to scan it and get it ready for printing. Ken had a moment to final sketch up a picture for Xander's room that I need to paint now. Our poor son has no art on his wall, and I want him to move into his room soon from our room, but not until he has something on the wall, haha. Yes, lame I know, but I refuse to make him fall into the second child syndrome. Here it is prior to painting... stay tuned for a final product.
I can't believe its Friday tomorrow! Lots coming up in the next little bit, another bazaar this weekend, this one has frozen pies - so Ken is very excited! Next week is my heart echo at the hospital, so everyone keep us in your thoughts and prayers that it will look good. I am not sure if I will hear the results until I see the cardiologist again in May, or if they will tell me then. We shall see. Ok, gonna go paint a bit before bed, good night!