Project 365
- Day 110
Just because I wasn't weird enough, I wanted to share a strange obsession I have. Ken HATES this about me, well... maybe not hate, but thinks it is beyond wacky. I
have
to have the kids plates, cups and bowls from Ikea in rainbow order. I honestly believe I have some sort of compulsive disorder that causes me to freak if they aren't properly stacked. Don't believe me, ask Ken... he is the one rolling his eyes. Ha!
-------------------------------------------------------------------------------------
Ok, lets recap.... within a week Xander learned to crawl, then how to crawl fast and now is pulling himself up on to everything he can. All I can say is whoa! Its like someone hit the fast forward button or something on this kid. Then to top it all off, last night I noticed his bottom gums looking puffy and now we should have some teeth popping through any day. Crazy!
I got some video of the little man crawling, here is pretty much when he started crawling...
The pulling up just showed up in the past few days and has me scrambling for baby proofing as much as I can. Its strange since we never really did much for Ariel because she was one of those kids who didn't get into anything (oh she is making up for it now, haha) and would happily sit and play on her blanket. Xander is the opposite, where can I go, what can I get into and how cute can I look while doing so.
Example A. - The discovery of the computer desk, something we didn't have in our main living space when Ariel was a baby. Xander loves to get the disc envelopes out and make a mess of them... while tasting the odd one.
Example B. - The random object pull up. We had a spare chair out from the shower I helped hosted and Xander deemed it a toy and would not leave it alone until I put it away. The positive point is now I am much faster in getting things away in their proper place.
Example C. - STANDING! Seriously, he is really an overachiever at this point. I think he is determined to walk as soon as he can. He just noticed the electrical fixtures and so all of those are plugged up now. He hasn't really noticed the stairs yet, something Ariel did right away. I think we will do what we did with her when he does take notice, which is to teach him. It made them less exciting and I hope it will do the trick as it did with the princess.
I guess I will be lowering the crib mattress later today... sheesh!
Its been pretty crazy around here with Ken finishing up the book. He got an extra few weeks extension since he pretty much was pulling his hair out trying to finish it. On Saturday he spent nearly 10 hours animating for the disc that comes with the book. He returned home around 2am in the morning but the animation he had to show for his time away was worth it.
Sunday was the big bridal shower that Stella and I were hosting for Andrea.
It turned out wonderfully! We had a such a great time and it looked lovely. Andrea's colors for her wedding are black, white and a touch of green, so we took that as our decor hints.
I decided to try making corsages again, and after a quick refresher on YouTube (is there anything you can't learn to do on there?)I managed to make up 3 for the bride and the moms in attendance.
I can make them, but I can't pin them on to save my life! Thanks Stella for pinning them, haha.
Isn't a party without the famous tux berries (and the bride berry for that matter).
The first time I made these was with Andrea, as we were hosting a shower for then bride to be Chelsea. As we made them Andrea made me promise I would make some for her shower one day.
Fast forward 5 years later and I remembered. Since then I have learned fondant and so she got a cake and some red velvet cupcakes to boot, yum!
Being the sneaky girl that I am, I went on her facebook page and grabbed pictures of her and Nick to print in black and white for the table. I added the words cherish, love and joy to tie in with...
... this adorable ribbon I found at the craft store. I used it to tie the cookie favors that we sent home with all the ladies. Stella baked up shortbread cookies and I dipped them in chocolate to match our black and white theme.
Stella insisted on a game, haha something I don't usually enjoy but I did like this one and it went over well with the ladies... not to mention it matched the theme again. In 10 jars we had white kitchen cooking ingredients like flour, salt, powered sugar etc. The ladies then had to try and determine what was what, and we stumped them good because the highest correct answer was 8.
At the end of the day, everyone had a wonderful time, Andrea got some lovely gifts from the church ladies and I had very sore feet. I fell asleep by 830pm that evening, haha.
This coming Saturday is our big registration day for the 'Imagine That' summer arts camp! The feedback from the community about our project has been mind-blowing! I don't know what to expect come Saturday morning, will there be a line up? Will it be a steady string of people coming by or will we be standing there twiddling our thumbs? I shall let you know how it goes. Again if you are in the area and think your kids would enjoy it, please check out our website
'Imagine That'
Next week is the last week of April, thus meaning my birthday is around the corner. 31, which means I have survived my first year in my thirties. Gack! I told Ken this week I am starting to see a future game plan when it comes to things I would like to do. Nothing I want to share publicly yet, since its still coming together in my head, but lets just say I have a vision. Its exciting and I look forward to what is to come. Until then, I am enjoying an early gift from my kids, some fab books on cupcakes. Oh the goodies I will make them for school parties, hehe.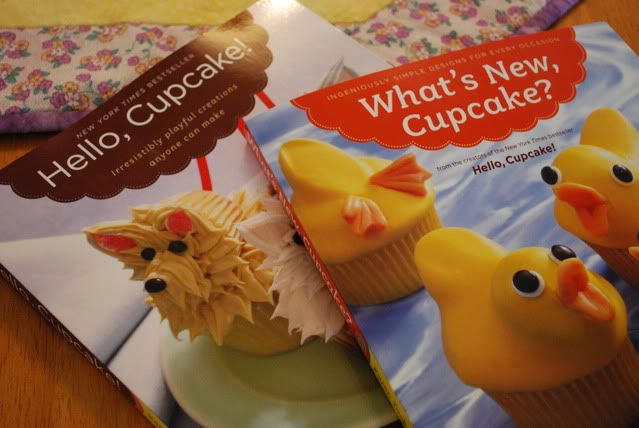 I need to share Ariel's really cute skirt that Stella made her. Matches her favorite turtle outfit perfectly, and what is even more special? Its made with the material of Nana's old skirt. So Ariel has a little piece of Nana with her, very sweet.
Well, I better get my butt in gear to get dinner started. I must say I love the nights Ken works late since I get Ariel into bed earlier than usual, hee. Plus its Glee night! Can I say how excited I have been for this Madonna episode. Oh man, taking the phone off the hook tonight, so don't call me. Haha. Well I am going to leave you with my new computer desktop picture, been playing around in photoshop more and came up with this. Love it.