Project 365
- Day 96
Do you see the bunny?
-------------------------------------------------------------------------------------------
Ugh... so I have no voice, but I guess I can type eh? Its been very frustrating today, I find myself making nothing but breathy sounds and by no means does it sound sexy. I sound down right stupid if you ask me. Yesterday I woke up around 5am to a sad boy, and he fell asleep pretty quickly after nursing in our bed. I however was very much awake and came down stairs, checked some email and returned to bed where I watched an episode of the Gilmore Girls before falling asleep finally.
So then I didn't wake up till 11am! Good gravy! Thank heavens for no school and Ken being off work today. Xander was asleep still too beside me. He has the same bug I think, although his seems more through the nose. I let him continue to sleep and got up to talk to the hubby and daughter only to discover my voice was missing. Ariel wasn't sure what to think, but when I am trying to communicate with them it makes it rather difficult and my patience is shorten. Sigh. Thankfully I had said the previous day what I wanted to do, which was the backlog of towels and sheets. So as my hubby did the loads of laundry, I could fold them.
Thankfully this happened after Easter. I would have been pretty bummed had it, especially since we had lots planned and it being Xander's first Easter celebration. Lots of fun pictures to share from the past few days so here we go.
Wednesday was Ariel's class Easter party, or Resurrection Party as they were calling it. She was excited to share her 'bird nest' cupcakes we made. However when we entered the classroom an egg hunt was happening so they were no longer important, haha.
During her party, I was super busy zipping into Richmond to drop off papers for Jo who was kind enough to do our Canadian taxes again, even though we owe, we appreciate her for doing that. I am sure its the kind of news you never want to give family, but its ok, we were expecting it. Then I went off and got my new drivers licence picture taken, ugh. I really hope it doesn't suck! I have been stuck with the worst picture for the past 5 years... I couldn't wait to replace it. Stay tuned if its good. Yay.
Later when I picked Ariel up after school she told me some of the kids didn't like the 'nest' part but that she loved it. That is my eater! Hee. I was asking about the special video they got to watch in the class, the Donut Man (if anyone knows of that one from church). I remember it and was asking if she liked the talking donut.
'Mommy, it wasn't a donut, just a circle.'
But it was a donut sweetie...
'No it wasn't, it didn't have sprinkles.'
I guess that ends that discussion, haha.
So last Thursday was the 10th anniversary since my Mom passed away. I took the kids up to the cemetery with Stella and Kara, and we had lunch out at White Spot after our visit. It was super cold and windy, ugh, but a warm burger always helps remedy that in my opinion.
It was Xander's first fime out to the cemetery and of course had no clue what was going on. Ariel however is starting to understand a bit more of everything, which is also difficult. How do you explain how they have such a wonderful Grandma they never got the chance to meet? I have a picture of my Mom in my room and took one afternoon to share it with Ariel who now grasps the idea of her 'Grandma Vickie'. When we went out to buy the roses the day before she told everyone who would listen that the beautiful flowers were for her 'Grandma Vickie'... followed with 'she is in Heaven with Jesus'. That part tended to catch people off guard and they wouldn't know how to respond... how do you?
The rest of the week was a blur of baking. Making batches of paska and chocolate hot cross buns... yum.
Chocolate is always a hit in our house.
Friday was the service at church in the morning and Ariel impressed me sitting through almost the whole thing. We were all very impressed since its a hard service with it being very dark. After the service Ariel had a funny look on her face and when I asked her what was wrong she simply stated 'but Jesus is alive Mommy'. Of course he is, I told her, but we are remembering the time when he died on the cross. 'He is alive though'. Many of our friends at church were moved by her words and it was very special she is really understanding what we have been teaching and living our lives demonstrating.
That evening we took Dad and Rita out for dinner at the Greek place. Dad was turning 60 and it was our gift for him... that and some hockey sticks from the kids. In fact we were finally able to share our card we made for him. As you can see he thought it was pretty funny.
The front had this on it...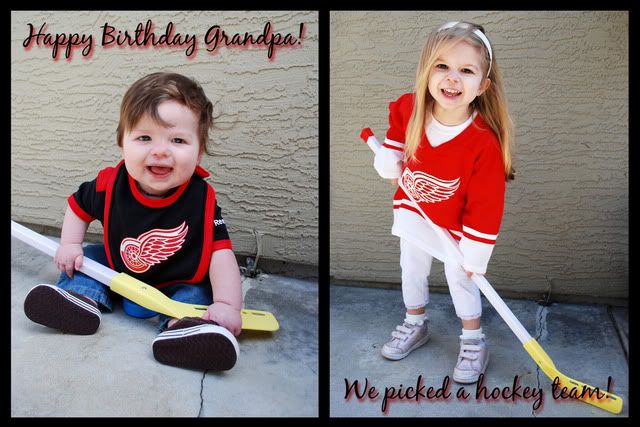 ... then on the inside.
Ariel chats about how she was eager to play hockey with Grandpa and I guess I have to accept those Canadian genes in her. We came back to our place and we got spoiled with some treats from their month trip in Thailand. I got some pretty elephant coasters, place mats and some real good salt. Ken got a marionette which had him tickled pink.
Ariel got a cute purse and a beautiful dress! It fits her like a glove and looks so pretty on her.
Xander, got a t-shirt, he seemed pleased. Haha
Sunday came quickly and it was EASTER! We had the webcam on before leaving for church so Ken's family could watch the kids come down in their fancy clothes and see their baskets of goodies. Ariel was happy about hers although she was kinda eager to get to church and wasn't completely focused on everything happening around her.
Xander seemed excited about his Grover, he gets all smiley when he sees it. Plus see his quilt rolled up in there... he loves it!
Ariel went to Sunday school while I cut up the three loaves of paska I made. Nothing like the smell of paska... yum. Ken was greeting so we got our spot with Stella and Kara up front. I was sooooooooooo excited they brought back the flowers in the cross tradition, something I really missed and knew that Nana would have been excited to see.
So pretty when its all done...
Following the service we came home and went out to take part in the Easter bunny parade and egg hunt at the local park. Ariel was excited although we had never been before so really didn't know what to expect.
It was set up well with using the fenced in areas, one for older kids, the other for the young ones. The kid find an egg and bring it in to get a candy treat. No one kid getting more than the other. I loved it.
The bunny was... er creepy... but oh well. Haha.
Then we got a snack and went to find the real bunnies over by the leisure center. Those ones were far more impressive to Ariel.
Dad and Rita were hosting dinner that evening but Mike and Jo had dinner plans with her folks so we did the official birthday cake at 3 in the afternoon.
Dinner was yummy, ham, potatoes and homemade Caesar salad, ooh that was good. Will be taking that recipe from Dad for sure. We watched Princess and the Frog after dinner, something Ariel got in her Easter basket. She really likes it except for the scary guy, and she would dash and hide behind the couch. This was totally for show, since she giggled when she did it. Ha!
(Checking out the Easter egg bag I made for his room)
With Monday a holiday, Ken was off and worked all day on his book, in between loads of laundry, and I rested. Today was back to routine and Ariel had ballet. Miss Julie said Ariel's coordination is really improving and was very pleased. So nice to hear since her mother is pretty uncoordinated at times, haha.
After her class we drove once again to White Rock to drop off tax documents, since we have our Canadian ones done we can finish the American ones. Gosh its so annoying to have 2 countries to deal with, and that one is due 2 weeks before the other. We are still trying to figure out what day we will go down to drop them off. Won't be a long trip, but I will be SOOOOOOOOOO glad when its done for the year. Blah.
This week is filling up quickly, the most exciting appointment, the kids getting their annual pictures with Maria! Its time for her Mother's Day event so I will get some updated portraits for the wall and gifts. If I am not sick, maybe I will get in one or two... wouldn't that be nice, a picture of me! Also, this Friday marks the beginning of the blog party by 5 Minutes for Mom! The link is in my sidebar, so if you want to find out how to be a part of it, you can get info there. See ya at the party this week!
Well, I had to share some cute videos too of my darlings. First off is Xander laughing, then some chatting with the kids and then a song sung by Ariel. Enjoy!