Hey everyone! Seven weeks today and feeling pretty good at the moment.
Here is the week 7 picture, excuse my nasty hair and lacking of make up. If you look to last week, there is growth! Oh my goodness, that didn't happen that fast last time! Kinda freaks me out!!! Eeek! I guess the sooner I have a real belly, the less I will feel like I am just 'fat'.
Also, I added a poll to my blog - is baby a boy or a girl? We will be finding out again around 20 weeks, so make your vote before then. Yay!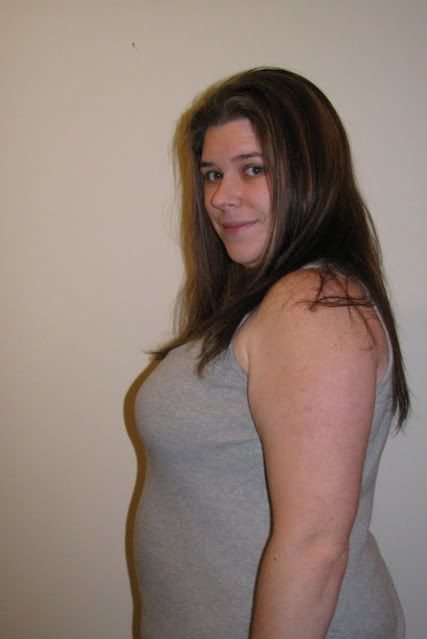 So I got out this morning to Richmond for Gymbucks day, hee - such motivation, and did well. While in the line up to pay, I started getting really nauseous and the store alarm keeping going off making my head ache and I started to worry. I rushed out of the store and made a run to the food court and got some french fries, lifesavers. I remember them helping when I felt sick with Ariel, so yay! That's the only thing that has been rough, how fast the nauseous feeling turns into the 'uh oh where is the bathroom' feeling. Ugh. Oh, besides morning sickness, I also managed to get a nasty kink in my neck this morning during 'sick time'. It hurts and its hard to turn to look right or left, doh! It made driving this morning a bit tricky also.
While Ariel and I waited for our fries, we had a nice chat with another mom in the line up. She was mentioning that Richmond is finally changing their policy on telling you the gender of the baby. They will tell you after a certain number of weeks, at the point where you can't abort the child. For those not from here, sadly there is a high number of people in this area due with particular backgrounds and cultures that will terminate the baby if its not the gender they wanted (boys). Its terribly sad, but then it leaves many people who would NEVER consider doing such a thing, without any rights of finding out what your having unless you get into another ultrasound place in an area that will tell you or by paying at a specialized clinic, which is what we did last time. The lady said that apparently so many couples were going to other areas that did tell, that they had to change something. Yay!
Anyhoo, I promised a spring fashion show, so here we go! Yay, short sleeves! Here is the cute 'gator' shirt Ariel LOVES! She couldn't wait to take a picture to send Daddy at work.
Then same skirt with a green top. Its a nice change to have green and yellow instead of pink all the time. (Although princess does prefer her pink).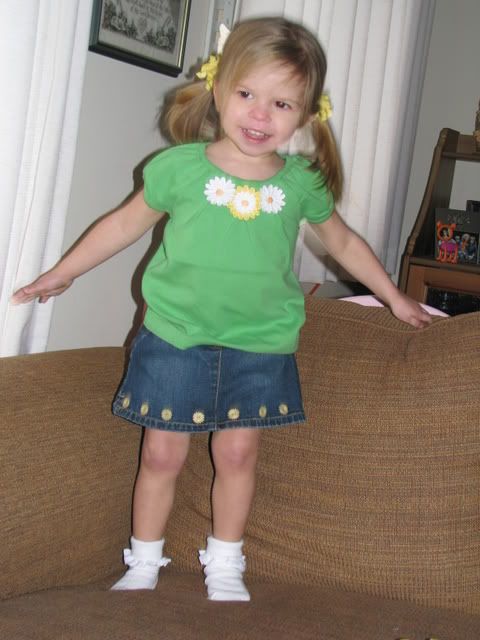 Plus Ariel got a 'valentines' shirt, even though I think it can be worn anytime since its so cute. Ariel loved the sparkles on it.
The other major mission this morning was looking for something for me to wear to my cousins wedding next month. I was kinda in a panic since as every pregnant gal knows, the first trimester is the struggle of what to wear! No one wants to go straight to maternity, and frankly I am kinda in between stages at this point. My belly is growing much faster this time, a shock to me, but I still don't feel like I am ready to go full into maternity world!
I only had my black dress which would have been fine except I used it overtime over Christmas and New Years due to things feeling tight. I managed to find my really cute maternity starter skirt and figured if I could find a top I be set. I got lucky at Dynamite and the girls found a shirt that would work as a maternity style top, without actually being one. Yay! I tried it on when I got home with the skirt and I am super happy! Plus its a beautiful teal blue and looks much brighter than just black.
Then we got Ariel some white shoes, as her old pair were much too small. Ariel is wearing a super cute pink gingham Gymboree dress I found on ebay from last year to the wedding, she is gonna look so cute. I am glad Ken is so easy to dress since he has nice things already for work purposes. Now I can relax, ahhh.
On Monday we had a play-date with our friends at Erin's place. I got to meet new baby Hayden (and totally forgot to get a picture of her). Ariel had a fun time with her friends and we had a tasty lunch. All the kids seemed to think plates as hats was really funny, hehe.
Then yesterday was 'take the car to the garage' day. We had failed one little area on aircare and soon found out why... and many dollars later (grrr) its fixed. Sometimes I really hate cars! Will go back this weekend to redo aircare so that I can renew our insurance.
Other exciting activities yesterday included calling the cable company (which changed hands) to figure out why our new bill said we didn't pay last month when it in fact it was paid on time (their mistake - surprise!). Stella came over for a quick visit and gave us a 'binkie' holder bag. Ariel is convinced its a purse for her, hehe.

Ariel and Bert going for a ride on the horse.
When Ken got home we had baked beans from the slow cooker for dinner with cornbread. Yummy! I ended up going to bed early again, while Ken and Ariel watched American Idol. Ken only ever watches the beginning, he likes the bad singers. Haha. I felt so sick last night and just couldn't get comfortable. Ugh. Is it really only 7 weeks? Its gonna be a long 9 months, haha.
Well, I think I have caught you all up on the past few days. Looking forward to coffee party group on Friday, yay! Also found out from Ken we got free tickets to this year's big Oscar party that our friend organizes every year. This time it is being held at the planetarium, which is sooooo cool! Can't wait... just need to get a babysitter, hee.