So we have been missing Ken this weekend. He flew off to Montreal on Friday morning and we have really been counting the days until he returns, haha. Ariel told me last night, she can't wait for Daddy to be home. Me too sweetie, me too. I have been really tired and drained from the heat and everything that I have been doing in preparing for the memorial.
On Friday morning we had our first coffee party since Nana died. It was nice to visit with everyone, but when we toasted Nana at the end, most of us were in tears. I was very choked up listening to everyone share how she was such a wonderful friend or like a mother. All that kept going through my head was, she was my Nana... and my mom is gone. I just hate thinking about how its just Ariel and I left in the chain of generations. Its hard feeling like I am standing alone without either of them. I would often tell Ken that one reason I got through losing my mom was because I had Nana... but now what? Sigh, I am still figuring that out. I try not to think about it too much right now since I just weep.
After the party, Ariel wanted to go visit the plastic geese in the back yard. She attempted to ride it... like so many kids have in the past. Its tradition really, hee. I am glad she makes me laugh.
That night for dinner I caved for comfort food and made up perogies. Ariel had never had them before, and let me say, it was a big hit! Can you tell? Glad I can share such silly things like this with her. I figure I better enjoy them now since once this baby comes I am back on my healthy food kick to drop the baby weight.
Yesterday Ariel and I went to the beach to meet up with our blog friend
Kristin
and her kids Marin and Corban. It was a nice change of pace from all the craziness and it was so nice to just relax a bit. It took a bit of time for them to arrive because Google maps was all wacky and didn't take in to account for all the construction downtown from where they were coming from. Thankfully, I was able to help guide them from landmarks
Kristin
could point out. Haha, streets I don't know but buildings yes.
When they did finally arrive, the kids hit it off well. Its so funny because we have been reading each others blogs for a few years now, so its like we know each other so well, and yet it was our first meeting. Wacky! Hehe.
If anyone remembers last summer, Ariel would NOT go in the sand... at all. It suddenly popped into my head that she might do the same thing again this year. So as we made out way to the beach... so did the wails, '
SAND! I don't like sand!
' However, once Marin was playing with toys in the sand it was like a light switch moment. Suddenly she whipped off her shoes and was in the sand building a castle!
It was amazing, and I kept snapping pictures as if she was taking her first steps again. My daughter was in SAND!!! Haha, sounds so cheesy, but hey its a big deal for us. Ariel ran around collecting sticks for her castle... and rescuing the ones Corban would remove for her, hee. Ahhh, things to come.
Next up we went for a walk out in the little tide pools. Ariel did need a bit of a lift over some of the rocks that were a little sharp, but for the most part she managed to walk out (although there was some whining). Once there, she ran and would call to Marin and Corban, '
come on everybody!
' They had a great time splashing and walking in the warm water. It was so nice with the cool wind off the water, I was in heaven!
Here is Ariel pretending to be Moses, parting the red sea... only it wasn't working for her. Haha.
Then we went back to the beach and played more in the sand. Ariel went and sat with some teens that were next to us. When I went to go get her, she informed me they were her new friends. Lol, making lots of new friends today. It was starting to get late, so as our final event, we walked down to the secret garden. Marin and Ariel enjoyed running through and finding the various items that were interesting to them... mainly the old fashion stove.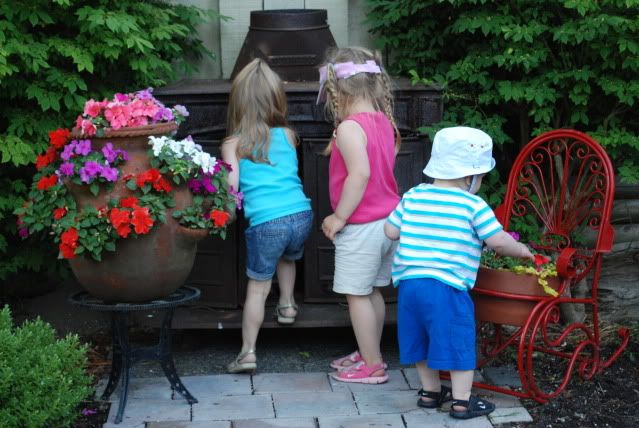 Love this one, just too cute!
When it was time to go, Ariel was pretty tired and cranky. She didn't want to say goodbye, and getting her into the car was a bit of a challenge. The promise of a slurpee on the way home helped, haha, I needed one too. We drove on the highway so we could help our friends get back on the main road without any problems, they had enough already that day. When I got home I realized I had gotten a bit of a burn, blah! It was starting to hurt, so I got out the lotion and kept drinking water since the more you drink the faster the burn will go away.
By the morning, I only had 2 small patches on my arms that were still sore. I got Ariel ready for church and we went off on our own. You can tell summer is almost here as attendance really goes down with people away on vacation. After wards we stopped at the first market of the summer in the village to grab some lunch. I got us some bison burgers, yum. Came home and tried to rest a bit before we headed to Stella's for dinner... but Ariel wasn't going for that and kept coming and finding me to tell me random things.
We had a nice dinner and got to see Colin and Katie as well, which was a treat. Ariel was a total goofball and talking up a storm... like 90 miles a minute. She even had a bath there, which was nice for me to bring home a girly who was ready pretty much for bed as we walked in the door. Ahhh. I am eager for bed and sleep, so I will finish this up. Tomorrow is Ariel's last ballet until July and I have a doctor's appointment... oh and KEN COMES HOME! Can you tell I missed him... yeah, I miss my man. Can't wait to see you sweetie.