I am somewhat out of sorts. Not sure if its just that I am overtired or emotionally wacky... could be a little of both. Been having trouble getting comfortable in bed at night with this huge belly. Its all out front which makes side sleeping easy, but the pressure on my bladder is annoying and the struggle to get out of bed in the middle of the night is hard. Ugh. These are the times I wish I was a tad taller, longer legs... anything to help, haha.
Friday morning I woke up at 530am and felt completely sick. I went to splash some cold water on my face and ended up getting sick. I think I ate a tad too much for dinner the night before and my stomach and baby decided they weren't happy. Blah. I crawled back to bed till it was time to go to my Dad's for breakfast at quarter to 9am. Not a nice start to the morning, sigh.
It was nice to have Ken around for breakfast, as usually its just Ariel and I going over. He did have to go into work later that morning for an open house at the school, but there was enough time to eat and for a walk to see ducks. Yay!
The catfish were also out in full force, check out this hungry one! Yikes, they are kinda creepy looking.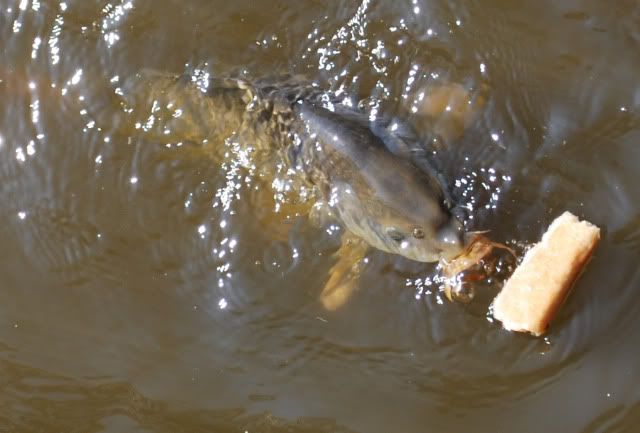 We walked back to the house and Ken left for work. Ariel and I stuck around finishing washing the fabrics for the baby blankets I need to make up. Dad grilled some hot dogs for lunch, and it was very enjoyable to sit outside and relax in the sun.
Ariel likes to catch up on her reading at Grandpa's...
Came home and just felt crappy. Just really tired and sad. Ariel wanted to watch some tv, so I took the opportunity to go up to bed and do some cross stitch while watching mindless tv of my own. I managed to finish the project I was working on, a gift for the new baby board I am a part of for Xander's birth. I am not sure if the girl I got is reading my blog, so I can't show you, but I will once it's arrived at its location.
Church was good, for what I did hear of it. Ken and I were in the nursery today, well I was but I called on Ken for help since I was tired and sore. I did have a 'lovely' comment made today from a lady who liked the color dress I was wearing... and how
MUCH
of it there was. Um, geeze thanks. I already feel like a huge cow, lets just bring it up some more. Blah. She even proceeded to laugh after she said it, haha, yes, its soooooooo funny. *Grumble* Under usual conditions, I may have not cared as much, but I haven't been in the joking mood, so kinda a crappy time.
I am very thankful Ken is home for the next 3 days. I just could use the company and the help. Plus Ariel is always excited to have Daddy home. We are in the process of writing her new birthday story, should be cute. Also I hope to put together the birthday invitations and do some more sewing. We shall see what I DO manage to accomplish at the end of the week, ha.
On the Xander report, he has been moving around A LOT! I see limbs go by and I totally can remember that time with Ariel. He is getting stronger and I find myself feeling like a stuffed turkey... or maybe rather a turducken (which for those who don't know is a turkey stuffed with a duck which is stuffed with a chicken... crazy!). Ken was like, there is a person in you, and it really is amazing to wrap your head around. Life is truly amazing. My blood pressure continues to be lower, which is fantastic. I also got a call from the hospital to book my 'pre-admitting' appointment with a nurse. It was that moment that made it very real that Xander would be here in less than 2 months!!! Gack!
Ariel finds it funny that he is kicking me. She knows she isn't allowed to kick people, so the fact her brother is doing it to mommy is blowing her mind. We got her to feel and I am not sure if she really understood what she was feeling, but the look on her face is priceless.
Speaking of our princess, she is officially registered for ballet at Aunty Kara's old ballet school here in town. It was very exciting to line up and sign her up. I look forward to a few years down the road when she gets to take part in the performances, eek! She is also just totally cracking us up with the things she says these days.
-Ariel bumps herself and cries and Ken said are you ok? She replied, yes I'm ok, sometimes people bump their tummies.
-This weekend she told me she wasn't Ariel but 'Supergirl'. She runs away from me shouting 'Supergirl, to the rescue!!!!'
-She was pulling at her shorts and underpants and I asked what was wrong, and she replied, I have a 'butt up' aka a wedgie.
She is also extremely 'apple crazy'. I need a lock for the fridge since she just goes helps herself. I found 3 apple cores on my couch... apple burial grounds I guess. Ick! The best was tonight when she fell asleep on the couch after eating an apple... and she kept lifting her hand to her mouth in her sleep like she was still eating it. I was waiting for her to bite her hand and wake up, haha.
This week we are also celebrating both Canada Day and the 4th of July. Gotta love having Canadians and Americans in the family eh? I pulled out the dresses I made last year and I think they should still fit Ariel, yay! The 4th falls on a Saturday this year, so it makes it easier to celebrate and we may go up for the parade in Point Roberts which would be fun.
Well Ken just pulled out the old 'Ariel hospital dvd' so I think we will go watch that before bed. Can't believe we will have another little person here in several weeks... wow... can't wait. Eek!