So on Tuesday we celebrated our 8th anniversary, wow. Can't believe we will be at 10 years so soon, and hope to do something more exciting than this year, haha. Yes, the morning started with a doctor's appointment. It was the only day they could get me in, so our plans of going across the boarder were changed to a later date, oh well. The appointment was good, Xander kept running from the doppler, much like his sister use to. My blood pressure continues to be fabulous! AMEN! I am measuring slightly ahead... so we shall see how things go. Another big baby... maybe its time to start taking guesses on weight? Hehe.
After the appointment, the 3 of us headed to the mall where I wanted to pick up the last few things I needed for the nursery. Changing pad covers, hangers (blue ones this time - hee) and more diapers before my coupons expired the next day. They happened to have a train set up so Ariel and Ken took a ride. I only had my cel phone with me, so I snapped a picture, not the greatest but oh well.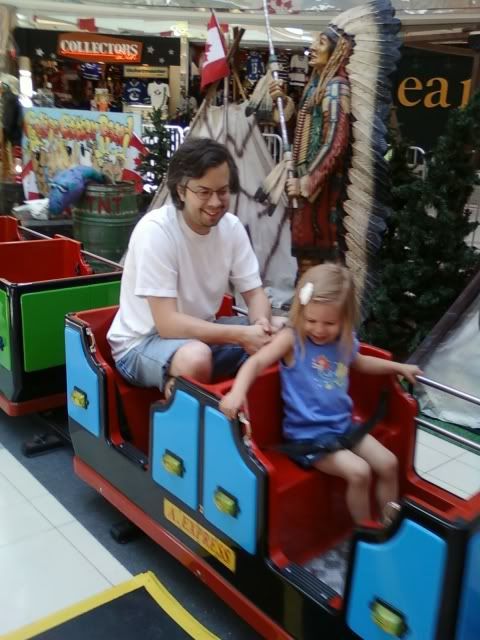 Came home and I was really zonked. I rested the rest of the afternoon while Ken animated and Ariel played. When dinner time rolled around, I was really not interested in going anywhere, so we ordered take out from the Boot. Yummy! It wasn't the most romantic day, but as long as we are together, its perfect to me.
The following day was Canada Day! Ariel was eager to get to the pancake breakfast, so she wasn't in a picture taking mode, haha.
I did get one nice one, Canada is number one! Woot!
Breakfast was yummy and Ariel gobbled it up.
Then Daddy and Ariel had a dance together, so cute.
Watching the big Canada flag cake get the last few final touches.
Ariel probably had 2 pieces of cake after eating everyone's leftovers after finishing her slice, soooooooooo good. I always look forward to the cake every year.
After the festivities, Ariel told us 'that was the best party ever.' Haha. We went over to Dad and Rita's for hot dogs and a chance for the girls to play. We didn't have Ariel's swimsuit (and she REFUSED to just go in her underwear, haha) but Katie managed to dig up one of her baby suits. Can you say 80's! Haha.
The pool proved to be a little snug for 4 girls...
... but the sprinkler worked well.
We came home again for another lazy night. I was zonked again and went up to bed to rest. I watched the Iron Chef marathon I taped earlier, haha. I managed to get a fairly good sleep, although I was up who knows how many times to go to the bathroom, ugh.
Today, Ken is back at work for 2 days until the weekend. We are excited the 4th of July is on a Saturday this year, and we can actually celebrate. Usually I just make a dessert, which is fine, but it be nice to do something more so Ariel can experience her Daddy's holiday too.
Haven't decided what is happening today yet... not much I hope since I am still really tired and its getting hot again. Ugh. Guess we shall see what happens. Bye for now!