Hehe, I promised to be better this week. So here it is! Woot. Had a good but busy weekend. On Saturday, Ariel went to Stella's while Ken and I went to a wedding to film the ceremony for the bride and groom. It was a very traditional service and we enjoyed getting to be a part of it. Since we got there early to set up, I managed to get a shot of the bride's flowers that were waiting at the church for her.
Afterwards, we picked up Ariel, got some free slurpees and came home so Ken could animate. He was on a tight deadline to finish the stuff for Galen, and worked late into the night. I am happy to say as of this morning, its now in the hands of UPS on its way to Nashville. Yay! Now all that is left is Ken's course writing and then he is DONE DONE DONE for baby's arrival!!!
Saturday night also happened to be the annual Tour de Delta so we went down to ring our cowbell and watch some of the action. Ariel was really into the bikes this year, and the bell of course was a hit. Haha. She would yell 'FASTER, GO FASTER!!!'
A sushi dinner was decided as we continued to watch, Ariel is a fan of tempura shrimp and sweet potatoes, haha.
Gosh I feel huge in this picture, but we still look cute.
I just downloaded some new songs from itunes and Ariel is having a dance party in the living room. If I wasn't lazy I find the flip video to share, but next time, I ain't getting up, haha. My energy has been getting less and less as we get closer to baby. I dream of the day when I can go for a power walk with the stroller and not feel like a sack of potatoes. Won't be long now... 44 days till my c-section. Whee.
I had a doctor's appointment yesterday morning. I had to bring Ariel with me, and thank heavens she didn't spike my blood pressure too much, haha. Of course she nearly jumps off the chair while they are taking my BP, ack! It was 128/75 so a tad higher than the past two visits but still better than it had been. My doctor also noted I am measuring about 2-3 weeks ahead still. I also may get another ultrasound just to check on baby's size and position as this visit he was transverse again (sideways).
Today we went for a walk to the store for more milk. Making my fav meatloaf for dinner tonight, yummy. Got some fresh new potatoes and corn to go with it, oooh. I am excited, can you tell. Hee. The rest of the afternoon I painted illustrations for Ariel's birthday book. As usual, we are cutting it close, but thank goodness for fast shipping, hee. I hope to have them done by next Monday which gives 2 full weeks till the party, so I should be ok. Oooh, a sneak preview...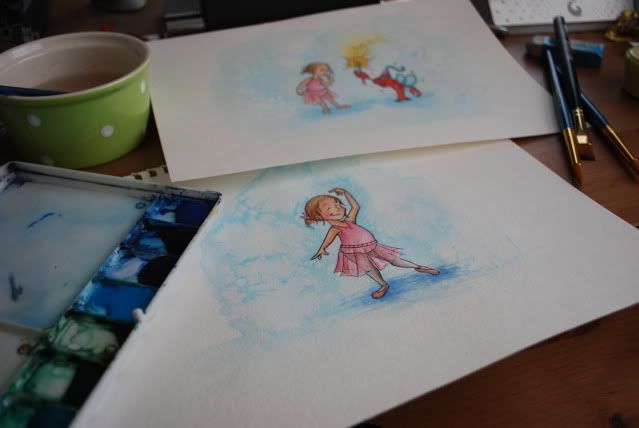 Speaking of the party, the invitations have started to arrive at their destinations as of today, so I can share what they look like. Yay!
This is how they look once out of the envelope, a cool pocket with a tropical feel.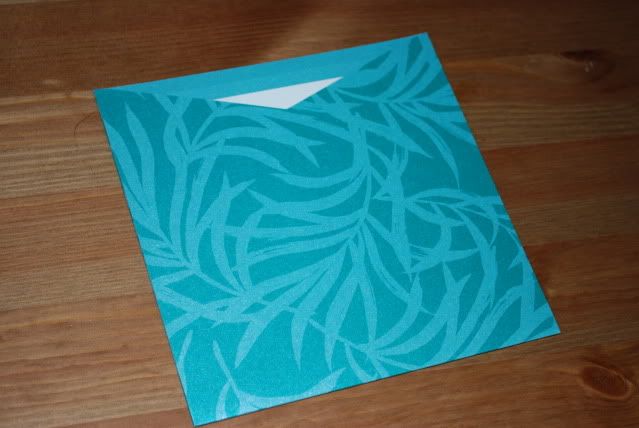 Then pull out the invite and you have the information side. (I smudged the address and email, sorry - no party crashers, haha)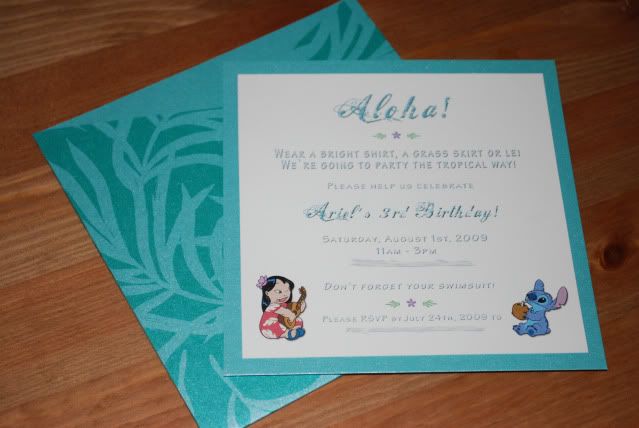 Flip it over and you have the year look back at Ariel photo collage. I did it last year and had to do it again, just so fun to see how much she has changed.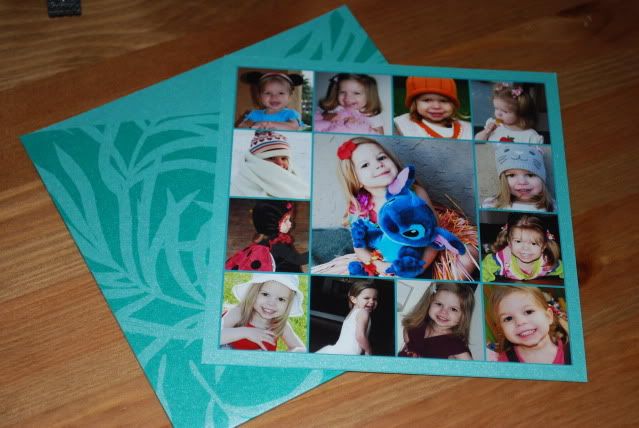 Yes, a tad simpler this year, but hey, I am extremely pregnant, haha. I love the color scheme this year, aqua blue is a fav of mine. I have been getting the party stuff all together and ready to go for the big day. So excited, I love parties and having a chance to visit with friends will be great. Feel so cooped up these days. Blah. I still have to do my food shop the week before the party, I have my superstore points saved up and have $100 bucks free to spend, woot. I love free!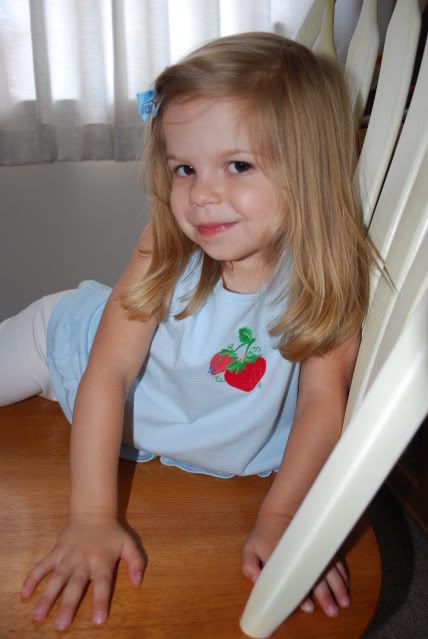 Yesterday I whipped up my cousin Kyle and his fiance Lindsay's save the date cards. I always enjoy wedding stuff, so it was a fun project. So yeah, its been busy here, but good. Been a bit down but the projects keep my brain off all the thoughts that seem to pass through it. Looking forward to gymbucks day tomorrow with Stella! Maybe a fashion show will be up later this week! Can you believe its fall stuff coming out? I am picking some basics for Ariel's preschool days and some goodies for Xander.
Ok, meatloaf is done, Ken should be here soon... yay dinner!