I realized that this morning as I was checking the email. Where did the week go? Its been a busy one, more so for Ken in the evenings with working late to finish his projects, but I have gotten lots done too.
Going back to earlier this week, on Monday night we had dinner at Dad and Rita's because lots of my family was going to be around for dinner. Aunt Valerie and Jim were in from out of town, and so rallying the lower mainland family was in order. Uncle Barry and Aunt Janet, Uncle Jerry and Aunt Rachel, Mike and Jo and even one of my cousins Eyal with his son Eliran.
Ariel had fun playing with Eliran, who is about 16 months, although she was frustrated he wasn't communicating with her. Since he is so big, I think she thought he was her age, and many times was in his face saying '
You are being naughty boy!
' (Note the hands on the hips, such a girl!)
Eventually after much explaining that he was still a baby compared to her, she eased up and enjoyed playing and holding his hand.
Aunt Valerie brought the kids some new stuffed puppies, and needless to say, Ariel was thrilled with hers. His name is bones.
Upon leaving, Ken snapped a picture of me and for once, I actually like it. Haha. I haven't been feeling that attractive lately, so a nice picture made my day.
On Tuesday, we had lunch out with Aunt Deborah, Kara and Stella. It was nice to have a visit and just relax over yummy food. It was a rainy day, so it was nice and cool too. Ahhh...
In the afternoon, Ariel helped me do some sewing projects (well she watched and commented mostly). We also got the finishing touches on her birthday invitations and got them in the envelopes... just waiting on the stamps.
On Wednesday we too the large pile of packages to the post office. I had gifts for various exchanges I was doing on my 2 mommy boards. One 3rd birthday gift for our friend Boston in California, and a secret shower gift for a gal on my 'Due In Sept' board. I took pictures of what I made her and her baby to be, so once she gets them I can share. Hee.
Thursday was a lazy day and so I decided to get creative with dinner and made something new. Found a recipe for asparagus stuffed chicken breasts in one of my cookbooks, complete with a hollandaise sauce. I even had new potatoes to go with it and oooh it was good. Ken was thrilled and I am excited for leftovers tonight.

Ariel has been really cute lately and very snuggly. I love it!
Since Ken was working late on the computer, I decided to stay up and cross stitch to keep him company. While watching the tv, there was breaking news about a small plane crash in Richmond near the Ikea! It was a 7-8 seat courier plane that went down, and how amazing that it didn't crash into any residential housing that was very close to that area. Talk about scary!!! Turns out this morning they said that it was carrying blood that was donated, which is upsetting too.
This morning I was starting my regular day until I remembered that I was going to a mommy's get together at Anna's home. So I got my butt in gear, showered and got out the door on time, yay! Before heading over, I swung by the post office to mail the birthday invitations. The stamps arrived Thursday morning (which totally surprised me) and I will totally share them because they are too cute. Ariel is holding a 'Stitch' doll, since the party theme is a Lilo and Stitch luau. I can't wait for the party... although I still have a long list of things to do before then. Gack!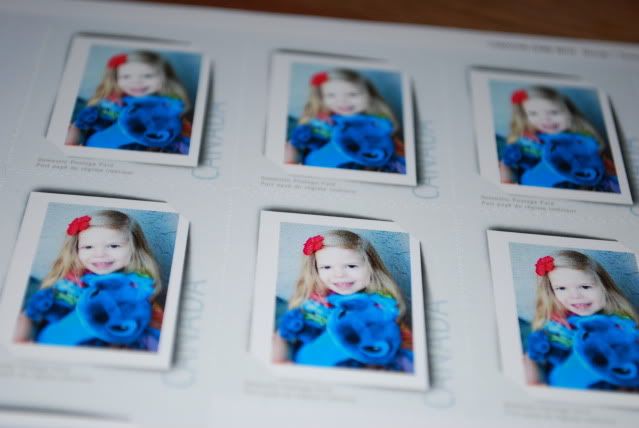 The get together was fun. Katrina was there with her 6 week old son Caleb, and I got to hold him, yay! Can I say how wonderful it was to hold a baby again, I can't wait for Xander to get here. Isn't he cute?! Only 47 days till my c-section!!! Eek!
Ariel also had fun playing with all the new toys... especially on the trampoline with Issac.
Ellie came along with Olga and her baby girl, since her parents were busy with moving today. Ellie ended up giving some gum to Ariel, ugh! It was bound to happen eventually, however, when I went to get it from her, she swallowed it. Blah!!! Ariel didn't seemed phased by it, and I am thankful it didn't get stuck in her throat... or hair for that matter. Later after lunch I looked outside to see Issac, Ellie and Ariel all shirtless. Ellie was applying sunscreen to everyone, haha. A real glimpse of things to come eh?
We now are home and resting. I am pretty zonked and Ariel seems to be pretty tired too. I am gonna put my feet up and do some stitching. Tomorrow afternoon we are filming a wedding for some friends and Ken will be also working like crazy to finish the last of the animation he has to mail off to Galen. Hope you all have a fun weekend, and I will blog better next week, haha.