Ken is off eating a fabulous french meal tonight as they have a guest visiting the school, and its his birthday. This is an annual event and I knew it was coming, but right now I am SERIOUSLY craving an amazing meal somewhere. Ugh. Some place that doesn't give out cheap plastic toys... you get my drift. Haha.
Right now, I am a pool of sweat, lovely image eh? Its REALLY hot today and I just can't stay cool, as hard as I try. I think I may need to jump in the cold shower again after I finish this. Eating ice cubes have been my main activity most of the day, while painting. My goal is to do at least 2 paintings a day to stay on schedule. So far, I have pretty much one final one and a half one done today, so more painting in store for me tonight.
My cross stitch has to wait till I finish, I jumped projects again, this time working on Xander's birth announcement one for his room. Can I say, there is NOTHING that I liked for a boy in the patterns I searched. Why are girl ones so cute and boy ones so ugly? If you don't like sports, well, it doesn't leave a lot to choose from. I ended up going with something not really meant as a birth thing, but by adding his name at the bottom with date of birth, I think its perfect. Its a pair of dragons looking at their new baby dragon. (I also have no clue if I talked about it before, if I had, sorry, baby brain!) Baby dragon is looking good, but its much larger than I thought, so it might not be done in time. Oh well.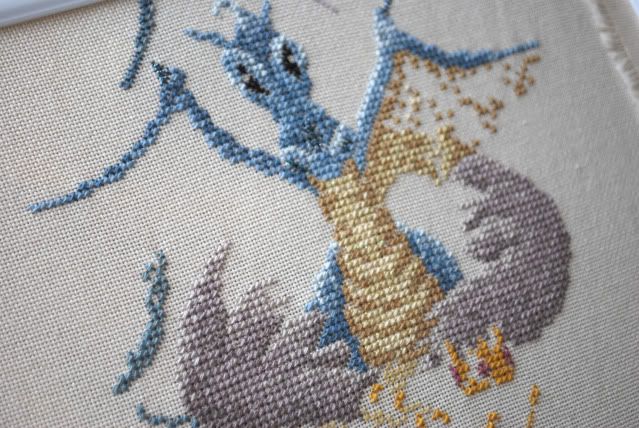 ------------------------
ok, I was writing this and then we had an 'incident'. Ariel decided tonight was a good night to try and do something stupid. Yes, she stuck cinnamon bun up both nostrils, and I honestly have no clue why. She was having a snack and playing with her toys when she comes over and is making an odd sniffing sound. She then says 'I sorry I stick bun in my nose.' WHAT!!!!!!! I tilt her head back and sure enough, I see 2 large lumps of dough. I get her to try and blow her nose and we manage to get one large piece out but the other side is much deeper. That side is also oozing and there is blood, suggesting she tried herself to get it out.
So I grab her and off to the ER we go... can I say how upset I am at this moment that Ken's phone isn't on. Ugh. After waiting at least an hour, and listening to the nurses talk about their kids and various things up their noses we get in to see the doctor. Ariel is flipping out now, kicking and screaming. They hold her down and with a quick look the doctor announces he can't do anything, and that we have to go to Children's hospital tomorrow.
We are home now and Ariel has fallen asleep on the couch. She isn't allowed any food or water past midnight, great... that will be easy, HA! I know I promised to post Ariel's fashion show, but I am a mess at the moment, so it will most likely be tomorrow... along with everything that happens regarding her nose. Sigh...