Project 365
- Day 140
Oooh, bad I know. I couldn't help it, haha. This grabbed my attention while taking pictures of X-man this morning, the carrot car. I think its something from Ikea he got in his stocking at Christmas and quite likes it. Watch out Mr Bunny... that baby is coming again.
---------------------------------------------------------
At this moment its somewhat quiet, except for itunes playing some Glee tunes... I HEART Glee. I know I know I say that a lot, but I really do. Swoon! This week the episode was so good, and Buffy writer/director Joss Whedon was running the show and you could sure tell. The story was really touching too, all about hope. Sometimes our hopes and dreams are realistic and if we work hard they can be obtained. False hope although coming from a place of love can be sometimes even harder to except and move away from. The one character wishes to walk again so he can dance. With having a mom who sometimes wished for the same thing while suffering with her health, was hard to watch at times. While watching this show, I am often thinking how my Mom would have enjoyed it, so this is for her.
With the 1st anniversary of Nana's passing tomorrow the idea of hope returned to me. Everyday this week, I saw eagles... always 2, just like that day at the hospital. (
If you want to read about that day click here for the entry
) Its been very comforting and I find myself at peace, sad of course, but hopeful and reassured in God's vision and plan.
So this past week was Ariel's last ballet class. Ariel was up at the crack of dawn eager to get ready of course. She is handing the idea of no dance for awhile ok at the moment... we will see how long that lasts. With her awake, and lots of time to kill, we decided to try a fun hair do we saw on
Girly Do's
. It turned out well and super cute! YAY!
Ariel did well and I am very proud of her. She is very attentive and I noticed much more at ease with people watching her now. In fact she was very focused when it was her turn for any of the exercises.
I meant to ask Kara the names of all these bar exercises... guess I need to learn them.
Here is her big performance to 'Circle of Life'. It was more of an interpretive dance this time around, and very sweet. This is when Ariel seems to really shine. Mommy's performer.
We in turn gave Miss Julie a handmade card and tissue paper flowers Ariel had helped make. The card featured pictures we had taken the previous week in the park after dinner. I managed to find a dance quote online she hadn't heard before, so she was tickled about that too. Here is the cover of the card with the little dancing fairy.
Soooooooooo it looks like Ariel will be coming to a tv near you! I got an email from the Jello people with a final contract to sign and needing our address to send Ariel her $500, which will cover her plane ticket this summer so its a huge blessing! We are just preparing our trip details and can't wait to finalize them. Eek! New York here we come!
After Ariel's ballet, Stella and I went off to the party shops to pick up my essential goodies for invitation making and decorating. Whee! Its by far one of my favorite places to go, so much fun stuff there. Its been decided that Ariel is having a black and pink Barbie themed party, and Xander a blue, brown and green turtle party. By the end of the afternoon I had gotten Ariel's invitations designed and ready to print and put together. I am in my happy place, haha.
Yesterday was a quiet day. Ariel went to school and I got the groceries, cleaned and did some work on projects. We had the building's plumber visit our place in the afternoon as our sink is leaking. With only one look at it, he decided to bring us a new sink the next day. YAY! I have hated that sink since we moved in with all its chips. Ariel was very curious about the whole process and today when the new sink arrived she was very excited to try it out. He even got us one with better knobs for the kids to turn on themselves. So pretty... and clean! (Amazing what excites you as an adult eh?)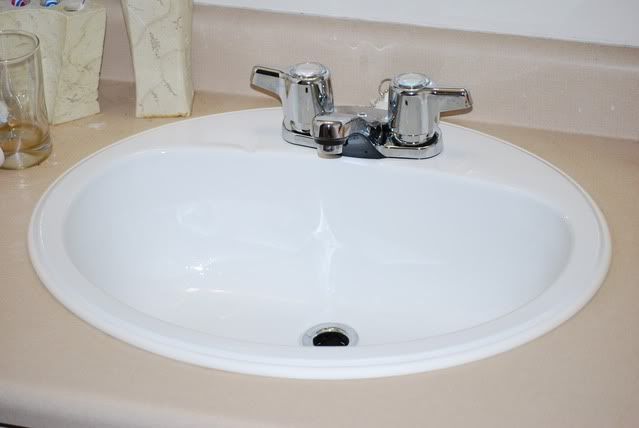 In the morning I got a call from Brenda about how she was blowing off her pool class in favor of a walk and if the kids and I wanted to join her. We all jumped at it and had a great walk and talk about Arts Camp stuff and other interesting possibilities, which I need to keep to myself at the moment, but lots to look forward to. Yay! (Xander's future plans are to walk... I am not ready for that!)
The long weekend is fast approaching and I am looking forward to dress shopping with the girls, Ken's dad coming to visit and just having Ken home for an extra day! Ken's book went to print so we are all excited to finally share the cover design with everyone. Looks awesome and I am very proud of my man!
Well, Daddy should be home soon, and its taco night, so better get on that. Xander is eager for a visit...