Project 365
- Day 127
I really confused Ariel tonight with dinner. I told her we were having chicken pot pie again (as our recipe makes 3 pies at once) and for dessert we made coconut cream pie. Ariel didn't really understand how pie could be both dinner and dessert but I do... yum.
------------------------------------------------------------------------------
What a week... Ken has been dealing with the editing process on the book (yeah its never
really
done) as well as preparing for a work trip coming up. I've been finishing up projects so that I can start new ones. I got the painting for the doula pretty much finished, and some stuff for the summer arts camp. Now I need to get sewing the flower girl dresses asap for next month's wedding. Seriously, these weddings are sneaking up real fast!
Today was Grad day (Prom for my American friends) at the local high school, my old stomping grounds. Its always fun to go down and look at the glammed up girls and guys, and how much things have changed since I graduated. The red carpet is a nice touch which was added a few years ago, now they had live music playing which really was nice and added a much needed background to the glamor of it all. The dresses were stunning, lots of beautiful flowing material, bright colors and sparkle. Very Hollywood looking gowns, so different from when I graduated.
I went to see a few kids from church walk the red carpet, included one of our flower girls from our wedding. A moment of '
oh man, we are getting old.'
Haha. I am helping plan and decorate for her grad party her parents are throwing later this month, so that is special.
Since lots of you are into the 'dresses', I thought I'd share some of my favs and those that caught my attention in general. Heads have been cropped to protect the innocent, or perhaps the guilty depending on your thoughts, haha.
There were several short dresses this year, which is always cute. Some were really colorful and flirty...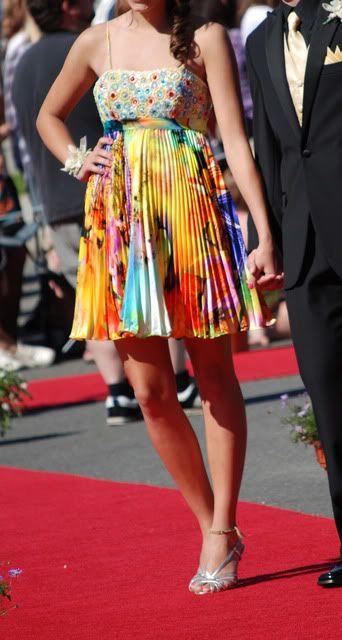 ... some where more cropped prom dresses, completed with sparkly sneakers.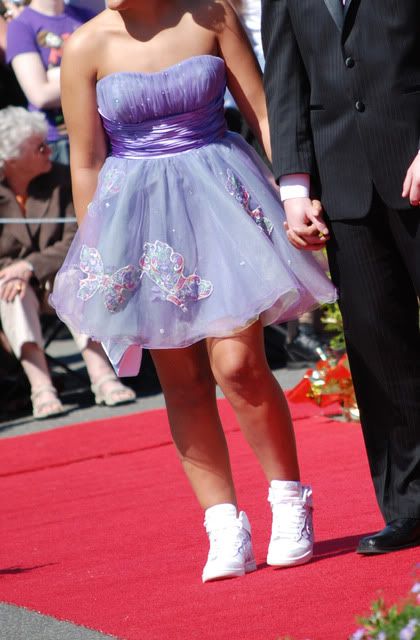 There are always the kids in black with a punk vibe, what you don't get to see is her bright pink hair that matched her corsage.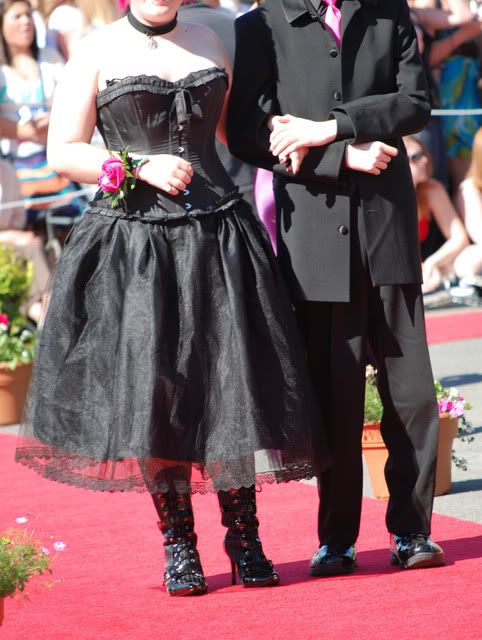 Ok, we are at high school right? Not some Hollywood premiere? Seriously, this was a beautiful dress but all I could focus on was her um, assets. Oh, and there was another dress far more revealing that this... just think of the dip in the front down to the navel and with a few small jewels joining it in places just to keep it together. I gasped when I saw it, mainly because it was really not leaving much to the imagination, very J Lo inspired. Oh and it was orange...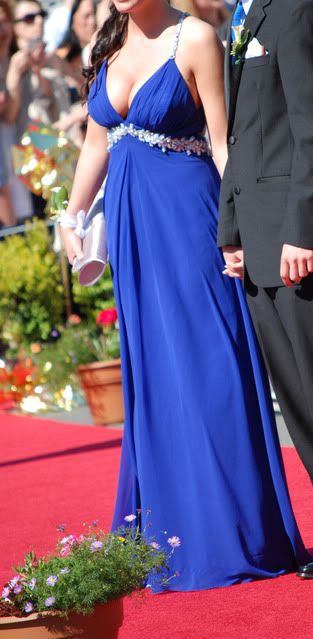 ...ok, not that orange, this is orange! There is always one kid who does this... haha. Always fun!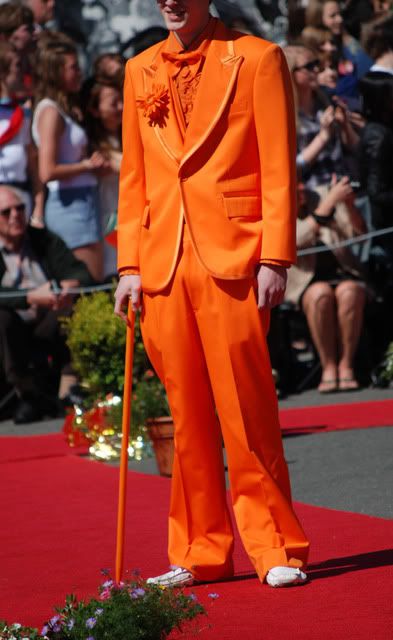 I really liked the dresses that had patterned fabric or combined elements like this one. Turns out the mom was next to me and was honored I loved the dress. What is not to like, it was so pretty and the second of my top favorites of the day!
Here is my top fav, and it might not be for everyone, but from a creative and memorable stand point (besides the boob dress) this one stuck in my mind. It was a ballgown in my fav blue and accented with peacock feather designs and detailing. You can't see but her date had the same blue on his vest and tie, completed with a boutonniere of peacock feathers! LOVED IT! It came down the red carpet early, and yet after all was said and done, it was the one I just couldn't forget. The girl who wore it pulled it off and was practically skipping down the carpet. I wish I could have gotten a better shot of the detail, it was so sparkly and unique.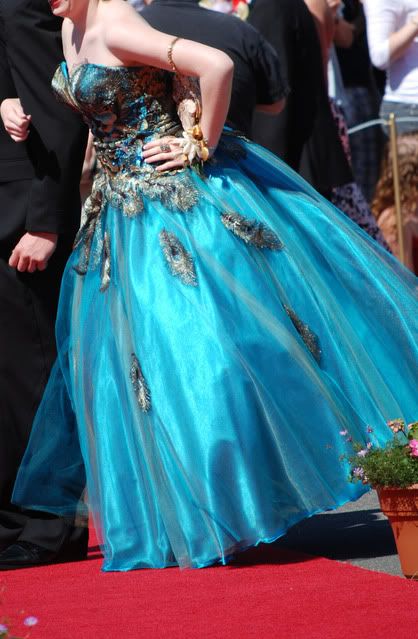 So I hoped you enjoyed the little fashion show, Ariel liked anything blue and informed me that she wanted a Cinderella dress for her grad, guess we will write it down and see if that is close to what she gets years from now eh? It also made me think how one day Ken will get to dance with Ariel at her grad, and I with Xander. I got a little teary thinking of that, the fact we both get to have a special moment is so awesome. Did I mention how much I love having a boy and girl! Eek!
Yesterday I took the kids to the park to play and to practice some portraits. I was a little bummed that they had just cut the grass, and so it was a bit messy for the kids to sit. Xander kept grabbing cut grass, but thankfully a squeaky toy in my pocket kept his attention for my shots.
My sweet girl, growing up very fast indeed.
My boy, gosh I can't believe he will be one soon!
This picture is somewhat a recreation of a shot my dad took of me and and my brother when we were young. Maybe I can try and find it to share the comparison if I remember, haha. Either way, love their expressions.
Xander got to finally ride the swing and LOVED it. He laughed so hard he gave himself hiccups.
I am looking forward to the photo shoot I am doing tomorrow. I am feeling prepared, and still nervous. I am really hoping maybe this can turn into something more one day, but who knows, I have so many creative possibilities that its hard to pick one... maybe I will need to do several? Will let you know how it goes, wish me luck!
Its mother's day this weekend as well, we have a birthday party to attend on Sunday, and have been invited to stay for dinner following it, so at least I won't be cooking, I guess that is gift enough eh? Ariel already gave me her gift she made in school, since in her mind I needed to open it asap. Its a starfish she made and decorated along with a hand print card, so sweet!
Ok, Ken is probably ready to get back on the computer to work, so I better go, have a great weekend!