Gosh, it is really starting to feel like Spring now. Its sooooo awesome, I love it. Along with the good weather has continued with our busy day to day life. I haven't been able to blog in the evenings since Ken has been working up a storm most nights... and is giving me a few moments before he starts again. Thanks babe!
Wednesday was a shopping and sewing day. Yes, the big gymbucks day rolled around again and I had my eye on a particular dress (and a few other goodies) for Ariel's upcoming photo shoot on the Friday. So Ariel and I were up bright and early on the road to Richmond. Thank heavens for HOV lanes, or we would have stuck for who knows how long. Yay! We arrived when the store opened, since it gets super busy fast. Ariel was eager to watch the tv (I love they have a tv for the kids to keep them happy while parents shop - good thinking on their part, haha) and I went to work finding the right sizes. There was a really snotty little girl who turned her nose up at Ariel offering a 'fish cracker' to her. She snorted 'only babies eat those'. Ariel didn't seemed phased, although she said, 'I'm not a baby, I'm a girl'. Haha, that's my girl.
One of the things I got was a cute bikini that was just so sweet. Usually I have 2 swim suits for Ariel for summer, and this is the big second one that will fit for a long time since its 2 pieces. (No need to worry about the ever growing torso that out grows everything so quickly. Can I say how jealous I am, since I am lacking a torso... sniff. Hee.
Ariel LOVES this suit, and it came with one interesting feature. The top this time since its an older girl suit, has a closure at the back... something none of her bikinis have had in the past. She was totally taken with it, and said 'Mommy! This is my BRA!' I nearly died laughing, she totally was excited to think she had a bra of her own. What a nut!!!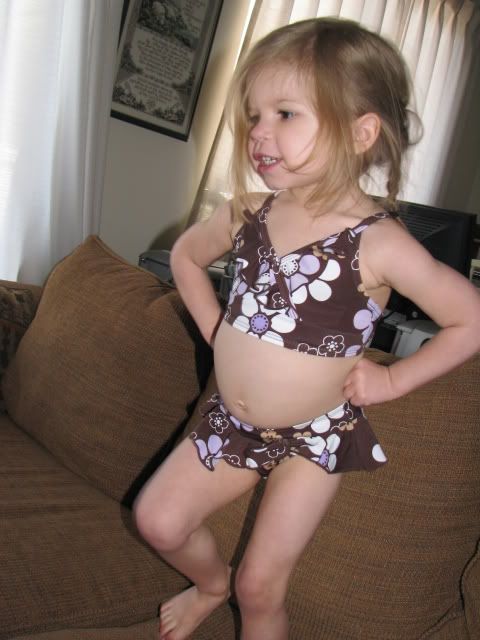 We went to Stella's after our shopping trip for some sewing and visiting. Kara managed to do 2 french braids on Ariel... and me I had no camera! Ugh! By the time I got home they were trashed, but here is what they looked like after a busy day. When asked how Kara got her to sit still, Ariel quickly pointed to her face and the 'slight' make up application. Haha, did I mention Ariel has gotten a serious helping of the 'pink gene'. Clothes and make up so young, so not like me at this age, it just cracks me up. She is Grammy's girl, that is for sure.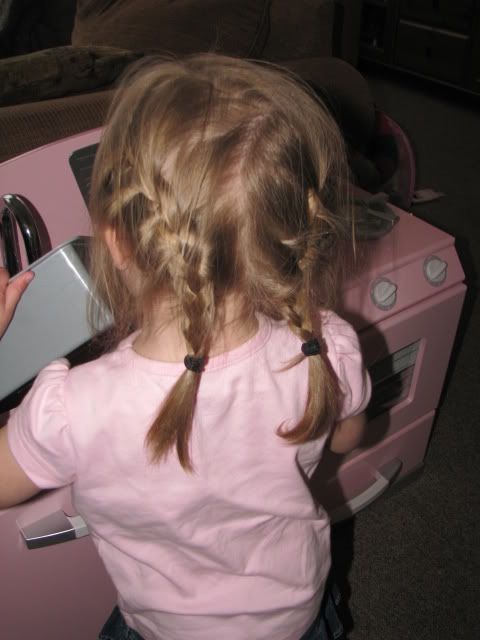 Other big news, we continue to gut the new 'Ariel' room and move things in for her. We brought up her kitchen set so she can start to get the idea that this room will be hers soon. She was really confused when we moved the computer, and even cried when she went looking for it in there. Poor sweetie. I spent Thursday filling holes and washing walls, while Ariel played. I am eager to get her furniture in, but I know until I deal with the last of the 'crap' left in there, I can't. Ugh.
Friday morning Ariel and I went to Maria's for the big photo shoot. This time, Maria took Ariel in her studio room all by herself, while I waited in the other room. It was so much fun to hear her talk and take directions. The pictures were FANTASTIC, and if you are in our area and want to get in there are some spots still available next weekend. Here is the
LINK
if you want more information. These are a few of my favs...
This morning we had breakfast with Dad, Rita and Katie. After polishing off a waffle, Ariel got to try riding a scooter for the first time... with help from Katie. She was pretty taken with it, and tried to do it on her own, but couldn't even hold up the heavy thing up right.
Then we all went to the church to check out the garage sale and BBQ. I was hoping Ariel didn't spot the various toys I sent that use to be hers, thankfully she was fully distracted with a ride on toy that was 2 sizes too small. The BBQ was awesome, and was perfect in the warm weather. Ariel wasn't keen on the sun on her face, and got her stroller cover to help protect her. I found it so funny that she would stick her hand out to grab food to bring back to her pod. Haha.
The downside of the BBQ, I had a 'rude' comment from someone who didn't seem impressed that we were finding out the sex of our baby. I don't understand why some people take such offense to it? Its really none of their business if we do or not. I am not the first to do this in our church, and most likely won't be the last. I guess it erks me to slam my choice. Oh well, my only cranky moment, haha. The youth group however were very excited that we find out this TUESDAY! Eek! I shared our name picks and they gave thumbs up on both, yay. Can't wait... its been a long wait and I am so ready to start preparing for who ever this little one is.
We came home after a quick grocery store run for a few things we needed for the weekend and made some dough for homemade pizza. Yum. Well, that is about it, and my time is nearly gone. Not much else to say except I reached the big 20 weeks this past week. It was exciting and yet tiring to think I still had another 20 weeks to go. My morning 'belch' routine is still continuing, much to my dismay. It doesn't help either that my cough is still lingering too, so one cough in the morning can make things worse. Oh well... here is my picture for my big day. Have a good weekend, what is left of it. I am off to bath and bed my kid who is running in circles at the moment... pants-less.