...gosh its so funny to say it out loud. Makes it so real, almost still hard to believe. I remember being the same way with Ariel too, I was so amazed it was a little person, not an 'it' anymore. Its fun saying our son. A son and daughter, we are truly blessed and excited to have one of each. Now to let you in on my little secret, I kinda knew... in fact I said from the beginning it was most likely a boy, but with my sickness very much like Ariel's, Ken wasn't as convinced.
This whole pregnancy I found myself drawn to the blue things, making plans for color schemes, birth announcements. I think I made myself say well its a 50/50 chance its not, so be prepared. I never want any child to think they weren't wanted, and this little guy definitely is.
Thumbs up to Mom and Dad!
The moment we picked Xander as our name, it was solid in my brain, that was it, that was our future child. Our girl name never seemed to stick as much, which is similar to when we picked the name Ariel. Our boy name kinda was an after thought, and it drifted away. So let me share more about our choice in name, since it is different.
Xander is a short form of Alexander, I have a cousin Alex already, so we decided to do the short version and be really crazy and do a 'X' instead of a 'Z'. We really like the way it looks spelled out, and fits well with Ariel. It is Greek, and means 'defender of mankind'. It felt strong and very spiritual to us... like part of God's army here on Earth. Ambrose is Ken's middle name, and also the maiden name of his Mom. It also turns out to be Greek, and means 'ever-living'... something we believe you gain through Christ. So yes, that is it in a nutshell. We love it!
Our ultrasound was fun and relaxing this time. No running up and down the stairs this time, haha. I ate a chocolate bar before we went, which made Xander very active and jumped around a lot. Oh and for the first time, the heart rate was 146, so that was neat too. The tech looked south and said, ok Dad look at that... and Ken wasn't sure what at first he was looking for. Haha, I think he was so expecting to see girl parts he wasn't sure... then the tech got a very good view and there it was, pretty hard not so see he was all boy. Ken was like, 'REALLY!' It was something I was excited to give him, a son. Wow. The tech also said it looks like lots of hair on this little guy, so that is very cool too.
Ariel was a little confused at first, not sure what to look at on the screen. We said, look its your brother and she was like 'huh'. Then Ken was like, see its a boy, baby Xander. Ariel was 'oh, baby Xander'. Its so cute hearing her say his name. Then she went back to playing with all the toys, since that was a bigger highlight to her at that point, haha.
Then we left and in the elevator I started crying. Mainly due to being overtired, I was up at midnight sick in the bathroom. Ken said are you disappointed, and I was no, I am very excited, but I am overwhelmed with all the work now I have left to do. Haha. Its like starting from the beginning again, which is fun, but I am so tired.
We left for the mall for lunch and some shopping. Yes, I wasn't going home without some boy stuff. I was eager to be on the other side of the store, since I had been eying it for months with the thoughts of 'what if'. So we hit Gymboree and Baby Gap for some cute duds, and let me be the first so say, no sports stuff! Sorry, but we aren't sports people, we are animators, so lots of funny creatures ahead for this little guy. He can wear sports later... although my Dad is very much pushing for at least one Canuck item. Hehe. So while I shopped, Ken called family saying 'hey we are shopping for boys stuff.' So it was a cute way to tell them. Here is what I got, first the piranha outfit from Gymbo, I LOVED this when it came out, and it was on sale now, whee!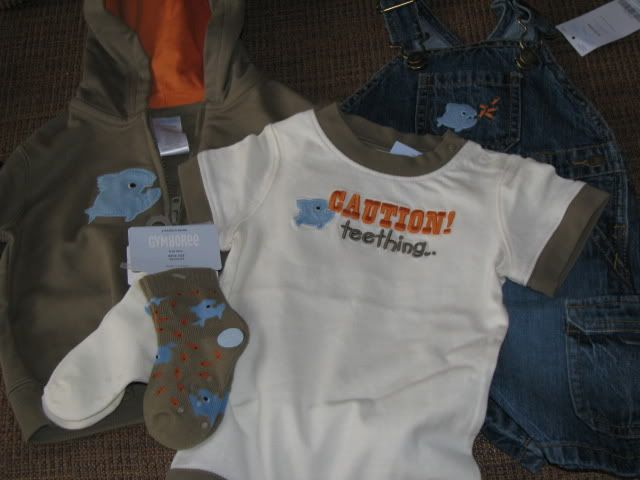 I saw lots of other stuff too, mainly some monkey stuff that Ken really wants, but I am waiting for the next sale... and there are lobsters coming next month too, eek! Then to Gap for a few onesies...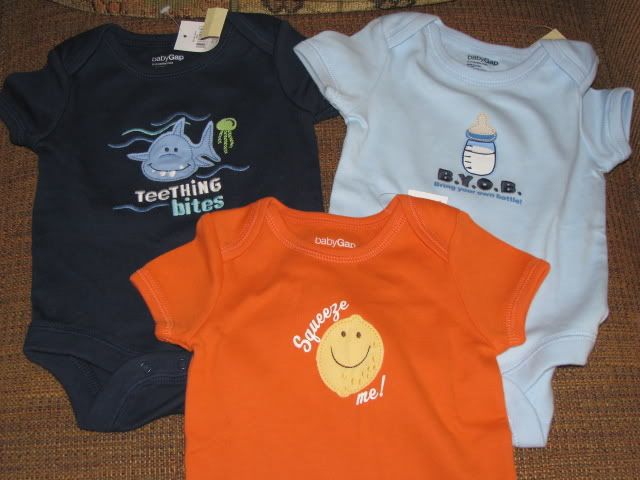 ...and some crabs for next summer. Too cute!
Came home and emailed Mike who is out of town for work at the moment. For Mike and Jo, its the first nephew after 9 nieces! So Mike wrote back, 'Woot! About time!' Haha. I wanted to film Ariel to share the news, but she was fast to sleep by the time we got home and she is still zonked out on the couch. Big day indeed. Ken went off to work, he also has a meeting tonight, so he won't be home till late. Blah. Oh well, at least we were all together for the morning, that is what is important. Until then, I get the computer to myself and that is good since I have lots of posting to do on various chat boards about our little guy.
So I better finish up on here because I am sure Ariel will be up soon. I shall leave you with some lyrics that I think represent everything I am feeling at the moment. Its the first thing that came to mind when I saw his face...
A new day has...come

I was waiting for so long
For a miracle to come
Everyone told me to be strong
Hold on and don't shed a tear

Through the darkness and good times
I knew I'd make it through
And the world thought I had it all
But I was waiting for you

Hush, love

I see a light in the sky
Oh, it's almost blinding me
I can't believe
I've been touched by an angel with love
Let the rain come down and wash away my tears
Let it fill my soul and drown my fears
Let it shatter the walls for a new, new sun
A new day has...come

Where it was dark now there's light
Where there was pain now there's joy
Where there was weakness, I found my strength
All in the eyes of a boy

A new day has...come