Things are finally really rolling with the big room switch, yay! As I mentioned in my last post, I got the new desk put together and on Monday we moved the computer downstairs... and that is when we hit a snag. We hooked up the internet only to discover the outlet we were going to use wasn't reading the signal. I called the cable company since I had called the week prior to ask if this could happen (they said they didn't think so by the way in case you were wondering). So we have to have a guy come out and fix it... but they can't come till next Thursday! Oh crap! It wouldn't have been such a big deal but Ken's work with the online classes he teaches kinda need him to have access. You see our problem.
So we ended up hooking up Ken's work laptop to the internet connection that worked upstairs so we could stay online for work purposes... but it wasn't ideal. That evening Esau's came by to look at our old desk, since the boys were wanting one for downstairs. They agreed to take it and during our brief visit, we told them about our internet issue. Shortly after they left, they returned with a HUGE internet cable they use to use at church, before they got wireless. Ken got to work threading it down the stairs (Monty Python is helping guard it), around the room (so that Ariel couldn't get hurt by it) to our computer. Soooooooo, we now have internet on our downstairs computer. Yay! It will help the almost 2 week wait be easier than it would have been. Thanks again guys!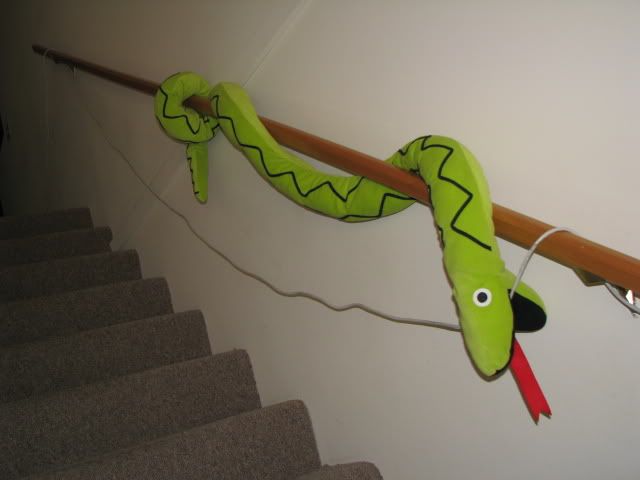 Last night also saw the huge piles of garage sale leave our home. Woot! Dan came by with some of the youth and they hauled it all away. They also delivered our old desk to the Esau's for them, talk about nice. Now the computer room is just a big mess of stuff that just needs to be trashed mainly. Its amazing to see the end nearly in sight.
Ken really wanted to finally get a flat screen monitor, something we always put off since the prices were always a bit high and that we didn't really need to do so until we moved the computer. Well, once the computer was in place downstairs, it really became apparent that it was needed, since the desk sits behind the couch, lets just say the huge monitor was a large heat machine cooking your head. Haha. So in a really smart move, Ken asked the tech guys at work if they had any monitor they wanted to sell, so we got a nice 19in flat screen ViewSonic for $50! Nice!!! I priced it out new and it was well over $280, so that was an awesome deal... and it looks so cute! Whee!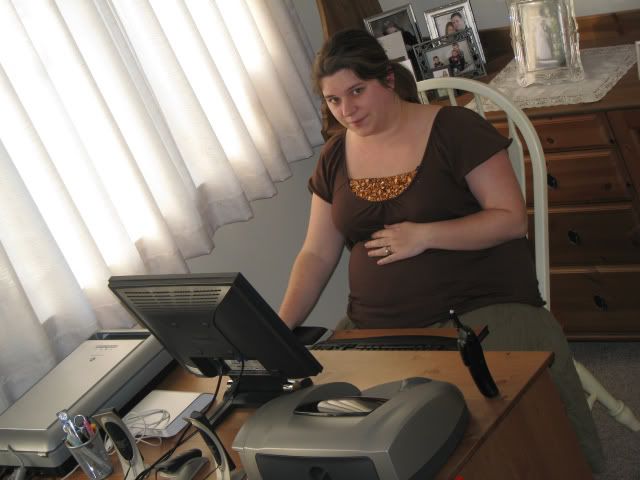 On the Ariel front, the girl had a great night sleep, but woke up coughing. Ugh. Seems to be really bad in the mornings, and then disappears. I hope we are near the end because its driving me bananas. Its been lingering soooooooooooo long. Other than that, she has been a happy little clam, but did fall asleep briefly before Ken got home while snuggling with me. She won't wake up so we tucked her into bed... and that woke her up, of course, haha.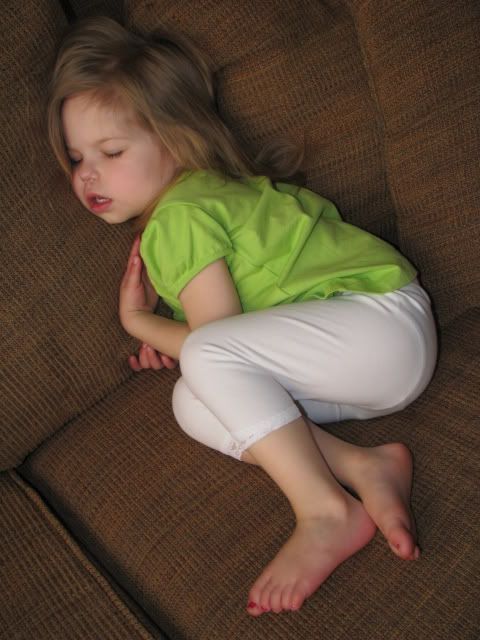 Tomorrow I need to run into Richmond and then I think we are going to go sew with Stella. Woot. Lots of fun ahead, so I am off to do some dishes and watch some Food Channel until the finale of Project Runway Canada, since I TOTALLY forgot to watch it last night. Ack! Have a good night!