Project 365
- Day 154
This blog is brought you today by the letter 'E'!
I am eager for this week to be over... too much stress. Blah! Looking forward to seeing this fine arts preschool tomorrow morning. Also found another possibility, however its $50 more a month. Not really that excited about spending more than we are already, but if that is what we have to do I guess we will. Sometimes I think this whole ordeal is a dream... nothing is that perfect fit like Ariel's old school was. Sigh. Just disappointing overall. I am in the midst of writing my second letter to the school's board members. My first was more of a vent, so its been trashed and I am rewriting it. Its difficult because I know people on the board and I don't want it to be taken personally, ugh. Stress, stress, stress!
Last night and today while the kids happily played, I got some sewing done on the flower girl dresses for Matt and Amanda's wedding. The one with the sash is pretty much done except for finishing and a zipper. The other one still needs its sash and crinoline attached, which at the moment is sitting in the middle of my dinner table. Going to work hard tonight so that Stella can help me with the zippers tomorrow, because I have a love/hate relationship with them. Ha!
Big congrats to my hubby who got a surprise this week in the mail. An honourable mention award from the Canadian Church Press for his article he wrote on animation and faith for the MB Herald. Yay! Quite something! He is pretty blown away.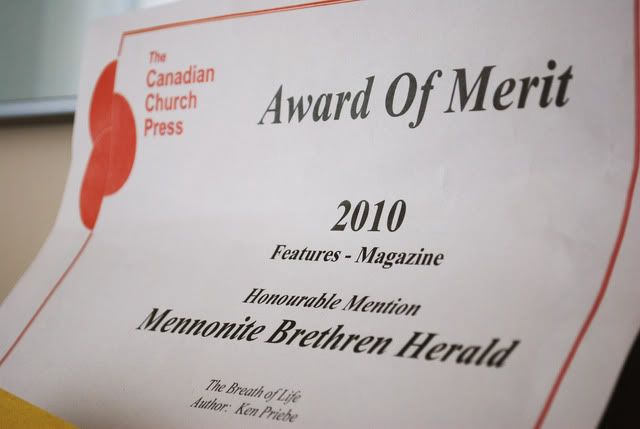 Xander got another hair cut this week. Its hard since his curls tend to go everywhere no matter how much you cut off. At least he can see better, haha.
Ariel wanted to share her new bathing suit. She is eager to go swimming again, so Mommy finally sat down and booked her for lessons at the pool. While going through the summer program guide I also found a fun course call 'Chefs on the run'. Basically its half gym time and then kitchen time with simple recipes the kids make. So work up an appetite and then eat, sounds good to me. Ariel loves helping in the kitchen so I thought it be fun, not to mention its an hour and a half class, so I get a bit of a break. We got the last spot so I am excited, yay!
The travel agent got back to me with flights for our trip, so after talking to Ken and then his mom tonight, I think things are looking good, will make it official tomorrow! WOW! Exciting indeed... quite the trip for the family, but just think of the pictures, haha.
Look at me, pretty much real little blogs the past few days, woot! Well, the dresses are waiting and I need to get Xander to sleep before I can get to them so off I go. Will let you know how the preschool meeting goes tomorrow.