Project 365
- Day 171
A 'V' from my scissors. Also I guess after this week we will be finished this phase of the project. I guess another theme will be needed. Ideas?
Oh so much to say! Its been busy here and I haven't had time to sit and blog about it. Lets start with Thursday morning and the cops... yes that is an interesting story. During that morning while the kids and I were relaxing, due to the rehearsal later that evening, we got a call from Stella about someone wanting to borrow my cupcake tower. So upon coming to the balcony to drop it to them, I saw the police car parked.
It didn't seem weird, so I dropped the tower down and was chatting away with them as I saw a few cops staring up in my direction. I realized they were looking at our neighbors deck and then I heard the banging on the door in the hallway. I got Ariel inside and peeked out our front door to see a few police officers trying to get our new neighbors to open the door. They saw me and waved me back inside with kinda was freaky. Next thing I knew one was at our door, asking if we had seen our neighbor today. I said no, but then I suddenly remembered they had 2 kids, and immediately thought of them and told the cop in case they didn't know.
Next thing that happened was if they could use our deck to climb onto their deck since their glass door was open. I agreed of course and 2 men came through and were climbing over. At this point Ariel freaked, but more so because they moved her car on the deck. Xander was a sleep, but I started to get nervous and had Ariel stay in the kitchen which just made her more scared. Thankfully nothing major happened. Another police officer came to debrief us that it wasn't a dangerous situation, but more so checking up on someone since they had a call about his safety from someone. I haven't seen his wife or kids lately, so maybe that has something to do with it. Either way, makes me sad and I will be praying for them.
That evening was the rehearsal for Matt and Amanda's wedding. Yay! Ariel was excited to meet the other flower girl, Isabelle. No surprise they hit it off extremely well and were 'best friends'. Hehe.
Xander was a ham that night, smiling away enjoying the fun! After dinner Ariel got a cute charm bracelet from Amanda and Matt, with a flower charm and an 'A' charm that were decorated with rhinestones. Super cute!
Friday was a tad busy, I woke up early to make a new recipe for coffee party. It was one I got from the Mennonite girls can cook website. It was a braided bread with ham, swiss cheese and dill pickles inside. Very yummy!
We enjoyed our visit, the kids did well for the most part. Xander showed off his newest trick which was going up stairs! Oh boy, here we go. He hasn't shown any interest in them until that morning. Do you feel my excitement, ugh. Haha.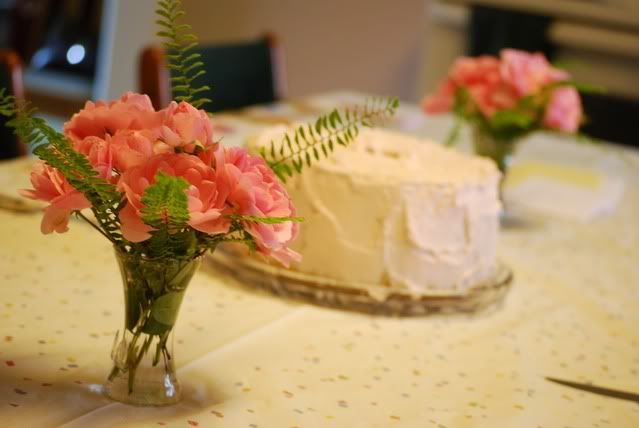 Following coffee, Stella and I dropped the kids off with Dad and Rita as we promised to help Kara out with wrangling kids at the dress rehearsal at her studio. I had a cute group of 4-5 year olds who almost looked all alike, making name remembering rather tricky. It didn't help they were in full make up and costumes, so nothing to really differentiate them either.
It was fun, lots of work keeping on top of getting the kids back stage on time, not to mention their costume and shoe change. Gack! Things to look forward to when Ariel is in the shows I guess as Kara says. Hee. Came home just after 7pm and found Ken had stayed for dinner with Dad and Rita, so took them all home for an early bedtime, the wedding would be the next day and we needed some rest.
Next morning we were lazy, just hanging around till things got rolling. At 1230 Ariel had a hair appointment, and this one was much faster. They curled it in 30 minutes, and it was more loose looking but very cute with the headband she got to wear.
We went off to the church and the girls were the little stars amongst the waiting crowd. They posed happily for everyone until it was time to get things going. They walked down with their flower balls bravely holding hands. When Ariel joined me she whispers 'I was a little nervous'. Awww.
Amanda was simply stunning! I am always amazed at these girls and how gorgeous they look. I don't remember being that breathtaking on my wedding day, pretty yes, but nothing like this.
Loved the bridemaid's dresses!
Pastor Dan did a wonderful job marrying Amanda and Matt. The ceremony was funny and touching, and Ariel did 'pretty good' sitting through it. I knew it be trickier because Ariel knows our church and it more comfortable... thus leading to wiggle butt syndrome. Haha. Thankfully after seeing her at the rehearsal, I planned ahead, I had gotten Ryan to watch Xander in the nursery so that I had both arms free to manage Ariel. I brought snacks and thankfully that helped contain her till it was time for her to run back down the aisle.
I left Ken (who was up filming the ceremony) and Xander so that I could get Ariel off for pictures. Thankfully she wasn't needed that much, and so following some shots we could go home for a bit till dinner.
... er not until I snapped a few shots myself, like my cuties!
Me and my boy!
After our brief break at home, where Xander napped (yay!) we came back to the wonderful reception. The tables were so pretty and the cute soda favors were adorable! We are thinking this would be cute for Xander's first birthday, since we did the personalized M&Ms for Ariel's. What do you think?
Can't go wrong with cupcakes and donuts for dessert! Matt had given Amanda a donut on a the first date, so it was a part of their 'history' incorporated. Hee. A tasty one too. Yum!
Amanda changed into another dress at the reception, one that was very 'her'. Very 50's vibe and super cute. I loved it... I'd love to have it, haha. Maybe in blue?
They threw the bouquet, and instead of the garter threw a wedding 'grenade', haha. Then the dancing started... keeping our daughter entertained. Ariel danced with the big kids until it was time to go home at 1030pm. We were all tired and yet didn't get to sleep for several hours, just buzzed I guess off the soda, hee.
Sunday morning we slept in, we all needed it, especially the kids and sadly missed church. When I finally woke up I realized Ken was already up, so I quickly got the kids together to give him our father's day gifts. Ariel had made a door knob hanger in school. Then I had gotten the kids to do a thumb print mug too for Ken (I had tricked him into giving me a print the night I was preparing the teacher's mug, sneaky me).
Ken really wanted to see the new Toy Story movie this weekend, so after checking the times, we headed off to the 1230pm show, since I was confident Xander would sleep through it after nursing. Thankfully I was right and we enjoyed the film a lot! Ken and I both cried, it was emotional and touching, gosh can Pixar do any wrong?
Upon Ariel's love of Woody the cowboy, I pulled out an old friend to share with the kids. This was the last Christmas gift my mom gave me. The second movie had come out while I was at animation school and she had gotten it for me. Seems fitting my kids can share in that gift don't you think?
This week is Ariel's last classes at preschool. Its very bittersweet, as we wish it was just leading into summer break, not saying goodbye to the school that has meant so much to her. I know that several of us moms will be crying the morning the kids do their presentation that final day. Sigh... so hard. Well, I better wrap this up, I have a huge list of things to do this week, invitation for Kara and Chris' engagement party, new directory for the church and doing the line up thing for Ariel's dance studio, whee! Hope everyone has a wonderful week!