Today the camp started, yay! We were up early so I could set up my space (since I didn't get to as I was wedding dress shopping the previous day.) This is a drawing one of my students was doing and I just thought it was darling. I love kid's drawings! Overall it was a real success and all the instructors seemed pleased with our first day.
Sooooooo, time to catch up. As of today, Ariel's birthday book has been uploaded and is getting printing! Yay... how many nights did I stay up late to paint... too many, ugh. Lets just say I will be looking forward to a normal bedtime tonight instead of anything 1am related. I think painting 12 illustrations in 3 days is a new record for me... one I hope I don't have to repeat anytime soon. We will be starting Xander's book soon, so not much of a break.
Going back to last Saturday, we got all dressed up for Lion King! Ariel was excited and we headed off to the city with our tickets in hand. Thank goodness we left early, we got stuck in lots of traffic and we were wishing we had taken the train instead. Finally we made it and were bustled inside with sea of people. Wasn't impressed I had to 'rent' a booster seat for Ariel, seriously, $2 for a cushion that didn't even lift her that much, boo! She ended up at a point coming to sit on either Ken or my knee (usually when the scary parts were happening). The animals coming down the aisle was AMAZING! Simply beautiful and left me awe struck. I love the theater!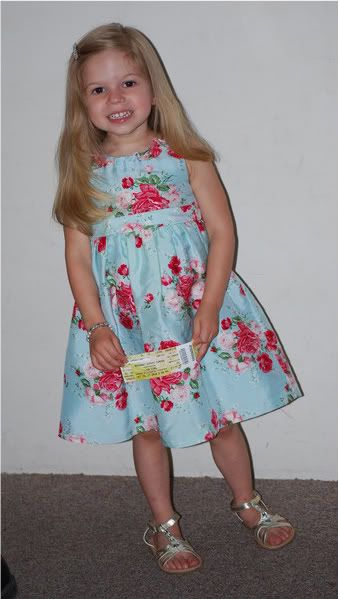 The week was hot and we spent lots of time on the deck in the pool keeping cool. Xander enjoys being in just a diaper and getting covered in dirt, such the opposite of Ariel.
My pretty girl with the purple hair.
On Thursday we had coffee party at Linda's home. She has a beautiful backyard and Ariel had a great time having her ponies explore it, haha.
Friday was a BBQ at friends and we had a great time. Xander enjoyed watched the older kids play and made his way crawling around the big backyard. He just kept going until it was time to go... seriously, this kid has energy for days!
Then the following night was Chris and Kara's big engagement party. My fridge was housing the giant cake for the event... thus not allowing me to get groceries until it was gone, haha! It was a yummy creation of chocolate and white cake with 2 layers of chocolate mousse filling and a layer of Stella's raspberry jam. Delicious! There was one tiny sliver left... so note to self, make it a tad bigger for Xander's big birthday party.
The bride and groom to be! Kara officially asked Ariel that evening if she would be her flower girl, and at first she was turned down and then came around, ha! At the party Ariel helped them open their gifts and on many occasions the gift was a bottle of wine. Well Ariel would yell out, 'another drink', somewhat surprised one would get so many beverages as gifts... not sure if she expected to see toys.
On our way home we passed the wharf and a huge paddle-wheel boat was docked so we hopped out to see it close up. It was gorgeous and they had a live band on it. looks like it was some sort of dinner cruise.
Ariel checking it out...
Snapped a cute picture of my boys.
Got Ken to take one of me with my new hair do. Been curling my hair lately since the heat tends to 'frizz' me. I quite like the change and its super easy for me to do.
When we got home I was finally able to see Ariel's painting from the class she took. I was really impressed with what she learned and she loved showing me her favorites...
Inspired by Andy Worhol
Inspired by Vincent Van Gogh's Starry Night
Inspired by Georgia O'Keeffe
Today would have been my Mom's 55th birthday, and I think it just made me a tad sad today because today was Xander's 11 month birthday. As of recently, I am learning of lots of people expecting babies, and its causing a twinge of sadness knowing I won't be following foot. I can't believe my little man is turning one next month... sigh... maybe that adds to it. Feels like my baby is almost a toddler and yet it feels like it was just yesterday we brought him home from the hospital as a tiny hairy bundle. I love his smile... Mommy's big boy!
I decided to share this really cute video of Xander. My boy LOVES the flip video... seriously. He sees anyone using it and he comes running to steal it. Watch and and see what I mean... hee. There is also a clip of Ariel singing her favorite song as of late, 9 Bowls of Soup. Enjoy!
Tomorrow we are back at camp, then looking forward to a visit from Maureen, Darrel and their kids in the evening. Then the following day I get a visit with my good friend Dianne who is in town, yay! On top of the camp stuff I have some projects to finish up too... and then its full on party mode as Ariel's birthday is fast approaching. Yay, fun times!!!
Ok, time to get ready for bed... ahhh a normal bedtime, love it!